This Old Haunted House (A Look Back at My Halloween Adventures: Part II)
One October, my sister Elizabeth and I took a candlelit ghost tour in Gettysburg.  Our guide started by passing around several black-and-white photos that included clusters of light spots – orbs. The orbs were somehow supposed to "prove" that otherworldly spirits were in the pictures. The large group of us tourists were then marched along the downtown streets while the locals drove past with their windows down so that they could yell, "Boo!" I spent the walk trying not to drip hot wax on myself. At one point, we heard a story about some ghost that still walked around smelling like his beloved pipe tobacco. I heard one guy at the back of the group whisper, "So I guess it would freak everyone out if I lit a smoke here, right?"
I feel a bit taken for paying money to that tourist trap. I'm skeptical about the existence of orbs in photos. I personally feel that they don't prove anything beyond the limitations of a camera's lens. However, I still like ghost stories. This past October, I decided to take a day to visit and photograph two "haunted houses." These houses have several things in common. Both have sections that were built in 1789 and they both sit on hills over the Monongahela River Valley. They are open to the public, and have had articles about their reported hauntings appear in issues of the Pittsburgh Tribune-Review. Best of all, neither of these are operated by commercial ventures.
Friendship Hill, Point Marion, PA
I started my day out at Friendship Hill, originally the estate of Albert Gallatin. The original parts of the structure were built in 1789, and it was a private residence until the most recent owner donated it to the National Park Service in the 1970's.
In my opinion, this landmark is a bit remote. It is about three miles from the actual town of Point Marion, and it does not have a food concession or any vending machines that sell food or drink. I didn't pack enough of either of these, so I had to leave after a few hours to find a grocery store.
According to the National Park Service website for Friendship Hill,the park includes 661 acres and over 10 miles of nature trails. Admission is free. The park ranger at the front desk gave me a map so that I could do a self-guided tour of the main house.  I was allowed to bring my camera inside and take pictures. I am not posting any of the indoor photos in this particular blog entry because none of the furnishings are original to Friendship Hill. The museum collection actually is on temporary loan from Arlington House, the residence of Robert E. Lee.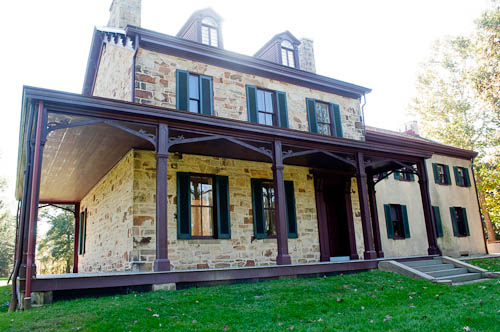 Per this article from the Tribune-Review  (if that link doesn't work, you can see the same Trib article halfway down the page at this link) dated October 2004, many of the owners of Friendship Hill met tragedy. (See the section of the article titled, "Ghost Stories.") The tales started with the mysterious death of Gallatin's first wife Sophia in 1789.  According to the park ranger, one legend holds that she was kidnapped – and thrown into the ravine leading to the Monongahela.  Sophia was buried in an unmarked grave overlooking the river. A later owner of the estate had her body moved elsewhere on the property – but where? According to this link, the site of her current grave is now a matter of speculation.  A well-marked trail leads to what is believed to be her present grave.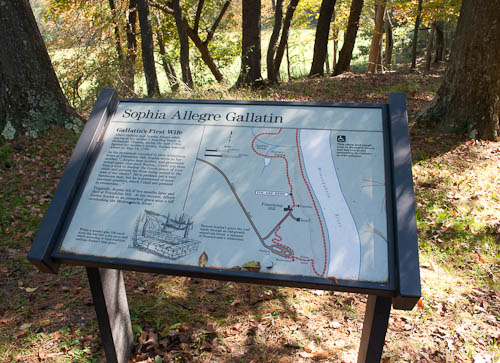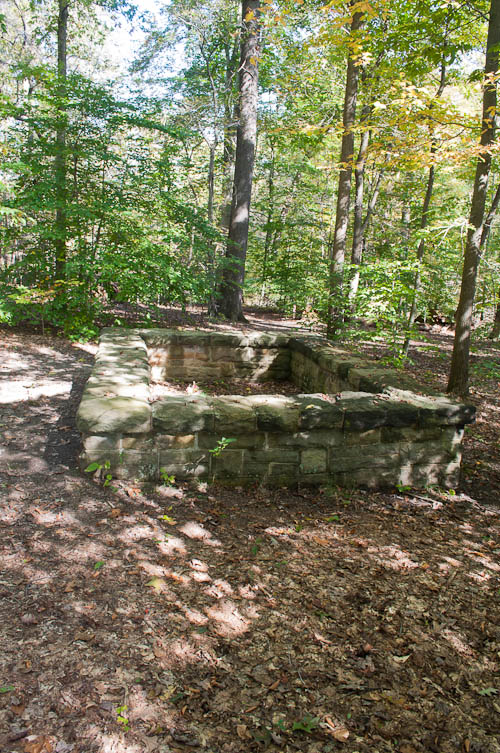 I didn't feel spooked visiting Sophia's grave and Friendship Hill overall on that bright, gorgeous autumn day. I fought with the hard sunshine as I grabbed a few pictures of the building.
A tent outside of the main house was set up for a wedding, and the guests were arriving as I was leaving. The bride and her attendants were having their portraits taken in a field down the road. I wanted to stay at a distance and watch. However, I was hungry and I had plans to meet Elizabeth for a ghost tour at Nemacolin Castle in Brownsville, PA.
Nemacolin Castle, Brownsville, PA
Here is the Tribune-Review writeup about Nemacolin Castle. The castle is now operated by the Brownsville Historical Society. The $8 admission fee for the tour funds the historical society's preservation efforts. My sister and I planned to tour the house at night, in the dark. However, as you can see from the below picture, I showed up too early to do this. I spent the extra time walking around the grounds with my camera. Almost every photo that I have seen of the castle is from the same side of the building as the one below. I had hoped that I could take one from a different vantage point. However, this was too difficult for me; the other side of the structure is on the edge of a steep hillside overlooking the river.
The castle is also known as Bowman's Castle since it was the home of the Bowman family for over 150 years. In addition to the ghost tours, the historical society runs Christmas tours in December and year-round historical tours.
While Elizabeth and I were waiting for our tour, we saw our Aunt Leslie and our cousins Roni and Jessica. They were chaperoning a Girl Scout trip to the castle. Since we live on opposite sides of Pittsburgh from one another, this was the first time that we had ever run into them anywhere. They revealed that they tour the castle every year for Halloween. One of my cousins apparently had once felt something grab her ankle while she was standing on a stairway inside the castle.
Neither Elizabeth nor I had any similar experiences during our tour that night. Still, it was a good adventure. I didn't end up with any pictures containing orbs. However, I'm still learning how to do nighttime photography. (Since I see learning as a constant process, I expect to never be completely finished with learning about photography.) Therefore, I'm not completely happy with any of the evening photos that I took. I did a little bit of internet research about paranormal activity at the castle, and I found this blog entry by a lady who did end up with several photos of orbs.
Jenny's note, 04/12/19: Come check out my new blog: The Parnassus Pen, a blog about Places and Their People, History, and Lore. Check out my list of 13 Haunted History Podcasts.