God Bless the Wedding Helpers
Thanks for all of the wedding anniversary wishes on Facebook!
Jon and I enjoyed a beautiful wedding nine years ago on April 29. We had a world-class cookie table – and the love of friends and family!
Thank you to everybody who was there and / or helped with it in any way. You gave us a Saturday out of your busy lives. (Or two if you also came to my bridal shower.) Some of you travelled many miles to be there. You guys did so many favors for us that I will fail if I try to list them all.
A lot of work. That describes most weddings, right? At least the ones to which I've been. Someone has to entertain out-of-town relatives. Bake for the cookie table. Escort elderly guests. Decorate. Pack up gifts at the end.
We are so thankful to our wedding party. Their dates were also good sports about the whole thing. However, the official wedding party doesn't do it alone.
For instance, take my youngest sister Olivia. She served me well as my flower girl. (See the pretty brunette at the top of this blog post.) However, she engaged in her most important work in 2011 when she made sure that all of the guests at my sister Katie's wedding had directions to the reception site. (See below.)
I need to admit that it was bittersweet to look at some of the photos showing the wedding preparations. I found photos (such as the two below) of Jonathan's grandmother and her best friend cooking and baking for the rehearsal dinner.  Jon's grandmother needs everybody's prayers right now for her current illness, and her best friend sadly passed away a few years ago. I myself have lost two beloved grandparents between the wedding and now. Looking at these photos reminded me to cherish everybody that I have with me now.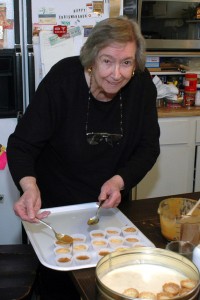 So much happy stuff has changed with our family since our wedding. Four sibling weddings. Four nephews and a niece. (The newest nephew is less than a week old, and another nephew is almost seven months old!) I can't wait to see what the future brings.
Finally, some of you may remember Olivia as a seven-year-old. She is 16 now. Here is a more recent photo of Olivia, standing next to my sister Elizabeth (my maid of honor), at another ceremony. This photo is from three weeks ago. This time we celebrated Olivia's Sacrament of Confirmation.