So I Took This Photo Yesterday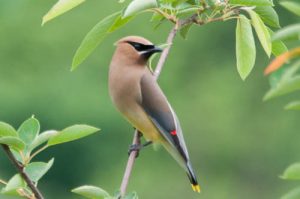 I took this photo yesterday from the veranda of the Nature Inn at Bald Eagle State Park. My dad told me that this bird is a cedar waxwing.
Bald Eagle State Park is about a 30 minute drive from Penn State University. Both are in Centre County, which is in the geographic center of Pennsylvania.
My four sisters, my parents, and myself all live in different parts of Pennsylvania (and sometimes Virginia) from each other.  My two sisters who have small children live in opposite directions from my parents. My sisters proposed that we all meet for a few days in the center. This is how we ended up at the Nature Inn.
(BTW, none of us are Penn State alum. My aunt and uncle built the last four decades of their lives in Centre County, and thus some of our cousins actually did go to Penn State. My sister and my brother-in-law did live briefly in Bellefonte, Centre County's seat. I make this distinction because we ran into several Penn State alum at the inn.)
I woke up at seven today so that I could drink coffee on the inn's veranda and photograph birds in the early morning sunlight. Then I packed, said good-bye to my branch of the Gaffron family, and drove home to New Kensington. I'm tired, and I can't think of anything historical to blog about.
I just wanted you all to see this bird.