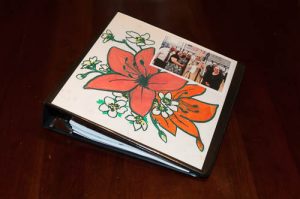 September. September.
Remember September.
September is a month.
It has 30 days.
Many of these days mean things to me and my family. There's the Obvious, Patriotic one. My Aunt Sue's birthday. (I forgot to send Sue a card.) My parents' wedding anniversary. The 10-year anniversary of my Grandma Hilde's passing. The start of autumn.
Yesterday, September 8, the Catholic Church celebrated the feast day of the Nativity of Mary.
Yesterday, September 8, Jonathan's maternal grandmother (Fran's mom) Babcia would have celebrated her birthday. (Babcia passed away in May 2015.)
Yesterday, September 8, marked the one month anniversary of Fran's passing.
For the past five years, Jonathan and his mom taught together at his alma mater, Saint Joseph High School. Jonathan resigned this summer to pursue his next big opportunity. Fran, on the other hand, planned to still teach at St. Joe's. She loved to teach. Yesterday, on September 9, the school held a Mass for Fran's intention.
The whole school poured their heart and soul into the Mass. I could tell. It was a beautiful mass. I fully intended to say more about it, and now I can't. I'm so, so, so grateful that Jonathan got to see see his old co-workers and his students, to hear about how much his mom meant to all of them.
The students put together a Memory Book about Fran. About their memories of Mrs. Woytek. They gave it to the Woytek family at Mass yesterday. Jonathan and I haven't read it yet. But we will. Oh, yes, we will. We'll read it when we have the energy to lose ourselves to the memories.
(See the Memory Book at the top of this blog post.)
One more thing. Some of us got to attend the Mass at St. Joe's yesterday. Some were there in Spirit. So I'm going to post here some photos that have nothing to do with September.
This is a photo of me and Jonathan with his parents, and his sisters, and his Babcia, and both of his mom's siblings and their spouses and kids, and Babcia's friend Mrs. Krohl.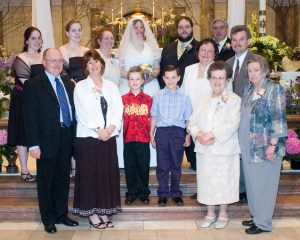 See, now here's a different combination of us at a Mother's Day picnic.  Again, this photo has nothing to do with September, but I think that it's a cool photo.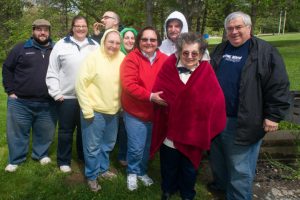 See? We were all at that Mass in Spirit.