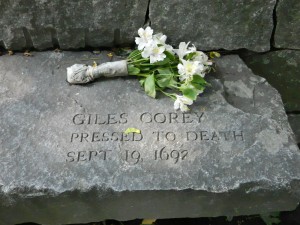 Here is the link to a podcast episode about the Salem Witch Trials that I really enjoyed:
Witch Hunt by Unfictional, a podcast series produced through Los Angeles public radio station KCRW.
(KCRW's Independent Producer Project sponsors Unfictional and also another podcast series that I really enjoy, Here Be Monsters. I know that my sister E. is currently looking for new podcasts to absorb, so I hope that she seems all of my recommendations.)
I linked above to the podcast's website. However, I personally prefer to download all of my favorite podcasts to my phone through iTunes. Then I sit in my backyard and listen to the scary ones at night, in the dark.
(photo taken by my sister-in-law Sarah)