Facebook "Like" Sadness. (Also, PA Writers.)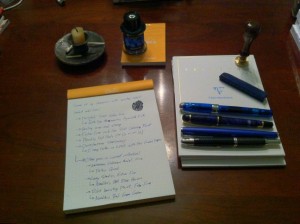 I called my dad last night. I told him about the 11 eagles that I saw last month at the Loyalhanna Dam. We talked about the books that we read this winter. He told me that he keeps up on what I'm doing from Facebook and this blog.
I guess that I need to call my own parents more often.
I need to blog more often, too.  I bought a new laptop last year. I bought it as my "splurge" after a success at my job. I also bought it as an incentive to write more. Then my husband's family lost his mother, Fran. And this took a lot of the wind out of my blogging sails.
See, it's hard for me to post a new blog entry, knowing that Fran won't  be on Facbook to comment on it. Or just Facebook Like it. She Facebook Like-ed everything that I ever blogged, even the stuff that I didn't actually like myself after I posted it.
This reminds of something that Kurt Vonnegut wrote about writing. To paraphrase, Vonnegut said that a writer should write with specific people in mind. Vonnegut, himself, wrote to his sister Alice. And then Alice passed away. (As a trivia side note, Vonnegut's other sibling, Bernard, discovered silver iodide which is used in cloud seeding.)
I have several readers in mind whenever I blog. Fran was one of those readers.
Fran loved books from Western Pennsylvania writers, and books that took place in Western PA.
For instance, she loved to note that mystery author Mary Roberts Rinehart was a native Pittsburgher. Fran took Rinehart's The Circular Staircase on vacation. She got her hands on a Rinehart memoir and read aloud the sections that she found most humorous. (Can you imagine? Bringing servants with you? To go camping? I still hear her laugh.)
Each Christmas, we toured Allegheny West, a neighborhood on Pittsburgh's North Side, behind Heinz Field. Fran loved that during each tour, we passed Mary Roberts Rinehart's house. One year, the Rinehart house was even part of the tour, so we got to go inside it!
Fran told my father-in-law to take this photo of the Rinehart house during that Christmas tour: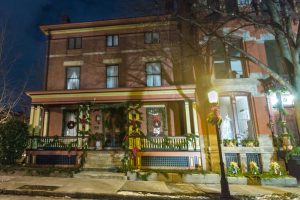 Anyway, in Fran's spirit, let me tell you about this Western Pennsylvania-based historical YA novel that I found.
A few months ago, after work, I took a bus from downtown Pittsburgh to Oakland to meet Jonathan. The bus dropped me off at that section where the University of Pittsburgh campus ends and the Carnegie Mellon campus begins.
Jonathan wasn't quite ready to leave his own work yet.  It was cold and snowing pretty hard at that point.  I planned to wait for him in Starbucks, but couldn't find a place to sit there. Dang college kids. Who do they think they are, taking up every table at the Starbucks with Pitt on one side and CMU on the other? Fine, I didn't really want to use my gift card anyway. 
I next planned to wait inside Subway, but the check-out counter was right side the door, and the tables were behind it, so I didn't think that I could get away with sitting in there without buying anything.
I walked into the Caliban Book Shop. I bet myself that I could sit inside it for 15 minutes without having to speak to anybody or buy anything. I headed for a chair in the back. I sat down. Then I found myself eye level with a shelf of books that I liked.
Long story short, I walked out of the Caliban Book Shop with the historical novel Hannah's Town, by Helen Smith and George Swetnam, copyright 1973.  I paid $12 for it, which is also what I would have paid for a Starbuck's drink had I found a seat there. (Joking, LOL!)
Hannastown is a small, rural town in Westmoreland County. Jonathan and I sometimes drive past Hannastown when we go train watching in Greensburg, Latrobe, and Derry.
In 1782, towards the end of the Revolutionary Wary, a force of Native Americans under Guyasuta (and also the British Army) burned Hannastown (then named Hanna's Town)  to the ground. The Westmoreland County Historical Society now runs an archeological site there. They maintain several colonial homes and a museum at the site. In the summer, a festival re-enacts the burning of the fort at Hanna's Town.
I read just the first chapter of this book. It is about a little girl named Hannah who lives in Colonial Hanna's Town, and considers it to be "her" town.
I look forward to reading Hannah's Town this spring or summer as I sit beside a lake.
Now, to continue with the subject of Western Pennsylvania authors and Western Pennsylvania books, here is the advertisement that is on the back jacket of Hannah's Town:
I might try to find "This Is How It Was" by William J. Laubenstein.
Because this book begs the questions:
How was it?
Also, who is (was?) William J. Laubenstein, that he is now in a position to tell us how "it" was in the "happy years of his boyhood" in the "cities and rural towns of the old Keystone State?"
First, since this ad says "the happy years of his boyhood," and those years were 1900-1912, I assume that he is a white male. And most likely Christian. Just a guess.
In 1981, a William J. Laubenstein from Hoboken, N.J., wrote to the New York Times with advice on how to butter an ear of corn. To share a technique handed down from his grandmother.
Also, a William J. Laubenstein authored a novel about a whaling ship in 1960.
Were these three William J. Laubensteins the one and the same? And isn't Google a lovely thing?
Anyway, I hope to blog again soon about Pennsylvania authors and books.