5 Spooky Places for New Ken Ghost Stories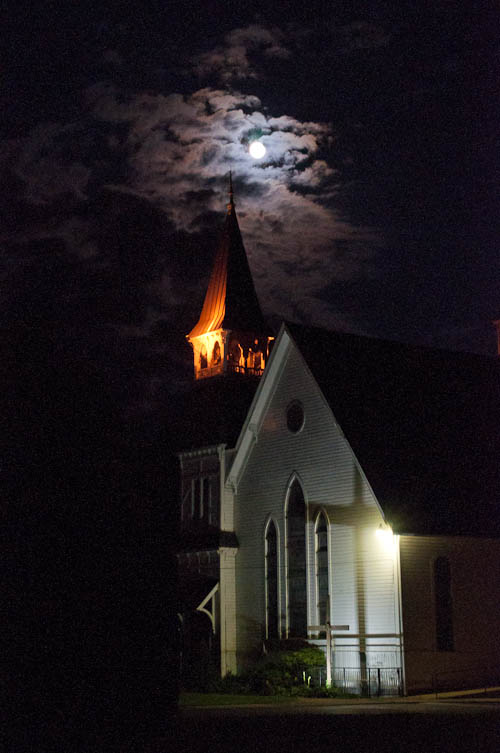 I love ghost walks and ghost stories based on local history. The last time that I Googled "PA Ghost Walks," I found several dozen cities in the results. Gettysburg. Pittsburgh. Philadephia. Erie. Harrisburg. Scranton. No mention of New Kensington.
Here is my list of sites for New Ken ghost stories, based partly on Mrs. Luella Rodgers Frazier's "The Early Years of New Kensington, Pennsylvania."
 #1: The Allegheny River, site of Ghost Ship of Rene-Robert Cavelier, Sieur de La Salle.
Brought to you by the first paragraph of Frazier's "The Early Years of New Kensington, Pennsylvania." The famous explorer La Salle sailed past present-day New Kensington, past Parnassus, on the way to his destiny. I bet that, as suggested by this history, La Salle did indeed stop here and explore Puckety Creek.
La Salle had several ships on the way to his destiny. In the 1679, La Salle disembarked from his ship "The Griffon." After he left it, the crew mutinied and the ship disappeared on Lake Michigan. I found several books and Google search results that claim that The Griffon still sails the lake as a ghost ship. (La Salle himself died in a mutiny and ambush in Texas in 1687.)
If Lake Michigan can have a La Salle-related haunting, I would think that we on the Allgeheny River can as well. On a cold dark evening, we could very well imagine a La Salle ship creeping through the river fog.
#2: Fort Crawford in Parnassus.
See my prior blog entry about its namesake, Colonel William Crawford. After In 1782, a force of Lenape and Wyandot Native Americans captured Colonel Crawford as he led the Crawford Expedition in Ohio. The captors tortured Crawford for several hours as they burned Crawford alive at the stake. Other prisoners who escaped alleged that the trader Simon Girty was there and that Girty participated in the torture.
I see no reason why Crawford and Girty couldn't both haunt Fort Crawford. They frequented the same taverns in Pittsburgh and in Westmoreland County, and they definitely knew each other. I read that Girty wanted to court or marry one of Crawford's daughters, but Crawford and his daughter declined the offer. Girty would have visited Fort Crawford in his work as a trader.
Girty died in Canada, but I read about an Ohio River island that he supposedly haunts in Ohio. If Ohio can have a Simon Girty ghost story, then his old stomping ground on the Allegheny River should also have a ghost story.
#3: The church grounds next to Fort Crawford.
I got the idea directly from this line in Frazier's"The Early Years of New Kensington, Pennsylvania:" "A portion of the Manse grounds of the Parnassus Presbyterian Church was once an Indian burial mound."
I would love to read a non-cliched ghost story about the "Indian burial mound" in my neighborhood. It would be an incredible challenge to write such a story in such a way that it doesn't end up as a bad Stephen King ripoff. Let me know if anybody has succeeded with this.
I love to walk past the beautiful Victorian church that also sits on this location. The original family who built my own house also had a hand in establishing this church building, and they now rest in the adjacent cemetery. So – I guess that the family who built my house is now buried on top of or beside an Indian burial mound?
#4: The Logan Family property.
I realize that Logan's Ferry isn't in New Kensington. However, sections of Parnassus used to be part of the Logan farm. Frazier mentions that Aaron Burr stopped to stay with the Logan family after he fatally shot Alexander Hamilton in a duel in New Jersey. I read elsewhere that after the duel, Burr fled west, hoping to outrun the news of what he did. He stayed in several historic homes in other cities during his flight, and these homes now claim Burr hauntings. Burr could very well also haunt this area.
#5: The Victorian Houses on Fifth and Sixth Avenues in Parnassus.
Don't forget the Victorian Era –  deliciously creepy in its own special way. Respectable Victorian citizens held seances in their parlors (their living rooms) in order to entertain guests that came over for dinner. Most likely, more than a few of the older houses in Parnassus were the scene of such seances.
I would love to hear of any other stories out there that I can add to my list.
Jenny's Update, October 14, 2018: Here's my newest New Kensington "ghost" post on my new blog:
Also, if you love ghost stories as much as I do, then swing on by my new blog to see my curated list of 13 spooky haunted history podcasts: