Hey "Hamilton" Fans: Here's a Novel about Aaron Burr's Daughter. Happy Father's Day, Aaron Burr!
So I just wanted to let you know that historical fiction about Theodosia Burr exists. Has existed for decades.
Let me show you My Theodosia by Anya Seton. Yes, it has a copyright date of 1941. Yes, I own a library copy from the 1960's.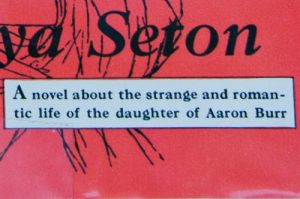 This work of fiction is still in print, though. With an updated cover. Last week, I saw it mentioned on another writer's monetized blog. (I think that the mention on this other blog was actually an affiliate link.)
Anya Seton was a well-respected author. My high school library, my college library, and my Grandma Gaffron's library all carried her books. Phillippa Gregory wrote forwards to several recent editions of several of Seton's novels.
I also read some of her other titles years ago, including Dragonwyck and Katherine. In fact, I read Katherine because I saw it on a list of the "best historical fiction that aspiring writers should read."
Now, despite my high opinion of Anya Seton:
I only purchased and read My Theodosia because of the Hamilton musical. My sisters –  especially my 17-year-0ld sister who is involved with musical theater at her high school – love the soundtrack, and they made me a fan. The show includes a song titled "Dear Theodosia" in which Aaron Burr sings to his only child and Alexander Hamilton sings to his first-born Phillip.
The book disappointed me for two reasons:
1.) I recognized in My Theodosia the exact same characters that I met in Seton's other novels. I met Seton's Aaron Burr when he was Nicholas Van Ryn in Dragonwyck and also when he was John of Gaunt in Katherine. I met the slaves at Theodosia Burr Alston's plantations when they were also the medieval serfs in Katherine.
2.)  Holy cow,  My Theodosia is pretty racist. In the characters' speech. In the narrator's language. In the subplot.  Theodosia Burr married Joseph Alston, a wealthy South Carolina planter, in 1802 when she was still a teenager. A significant part of the book actually takes place on the Alston plantations. (Yep, plantations in the plural.)
The protagonist is the wife of a slave owner. Therefore, the point of view, the language, everything is through the eyes of said slave mistress. That's the narrator's whole perspective. I read Gone with the Wind. I get it.
The author wrote this in the 1930's-40's, and she died in 1990. Is it fair of me to judge her by today's standards?
But – but – but: last week I read on somebody else's blog post that fans of Hamilton might enjoy this book. I just want to be clear that this book ain't Hamilton.
It's fitting that I mention the book today – Father's Day – because the main plot is mostly about Theodosia's unwavering love for her daddy, Aaron Burr.
Theodosia puts the needs of Aaron Burr above those of every other man in her life. Above her husband. Above her only child, who was also named Aaron. Above Meriwether Lewis, with whom she allegedly had an emotional or physical affair.
Now humor me as I end with a random thought:
Aaron Burr Slept Here After He Killed Alexander Hamilton (Maybe)
Here is the link to Mrs. Luella Rodgers Frazier's "The Early Years of New Kensington, Pennsylvania." Halfway through this history, Frazier wrote:
The Logan Family was closely associated with this district's early history. The
family held the original charter from the English Government, deeding the land to
John Little. The second owner was John W. Woods, of Pittsburgh, and the third was
Alexander Logan. . .  The Logans Ferry U.P. Church was built on part of the River Farm
purchased from Alexander Logan.
The story is told of the time that Aaron Burr stopped at Logan's Inn for several
days just after his duel with Alexander Hamilton. That was before newspapers and
letters were infrequent luxuries. Thus, the Logans did not know about the duel
and did not recognize Mr. Burr. At that time he was on his way to Blennerhasset
Island to enlist Blennerhasset's assistance in the scheme to build a new empire in
the southwest at the expense of Mexico.
From what I understand, a portion of today's New Kensington neighborhood of Parnassus actually belonged to the Logan family farm.
So maybe Aaron Burr slept here once.
Note from Jenny: Check out my new blog, about Pennsylvania and its people, history, and lore: