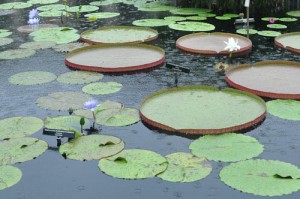 It's rainy. It's Thursday. It's rainy throwback Thursday.
Here is a photo that I took last June. I toured Longwood Gardens in eastern Pennsylvania with two of my sisters. Well, we toured part of Longwood Gardens. Because it poured that day.
We stayed dry inside Longwood's East Conservatory. However, I also stood in the rain for an hour.  Under my golf umbrella, wearing Jonathan's rain coat.  I  watched rain pond on the water lilies and water platters just outside the conservatory's entrance.
Later, we couldn't take the PA Turnpike back to my sister's house because parts of it flooded. We stopped for food and gas at a Wawa, and the friendly young man who rung us up asked us why we were out traveling in the rainstorm. I later read that the Delaware River – which separates eastern PA from New Jersey – is at sea level. I grew up in the Appalachian Mountains (in the Alleghenies, really) near the highest point in PA, so I'm not used to anything being at sea level.
Here is my blog post about the water platters.
Last June, my sister K. was pregnant with my nephew Peanut. This trip was my introduction to Peanut. Someday, I will say at his graduation or at his wedding or at his Nobel Prize award reception or at a reading for his first novel, "Peanut, I remember you before you were born."