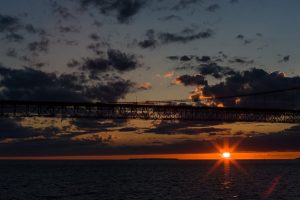 Here is a photo that Jonathan took during the Star Line Ferry's Sunset Cruise under the Mackinac Bridge Monday night.
This year, Jonathan and I took the 1.5 hour cruise for the third time. However, I chose this for my birthday.
Mike Fornes, a local author of several books about the area, spoke over the boat's PA system as the tour guide for all three of the cruises that we took.  At the end of each cruise, he sits at the table by the gangplank to sign and sell his books. I bought two of his books on our first trip, but now each year I feel badly about not stopping to purchase anything.
On Monday as the boat pulled away, he announced that he would hold a trivia contest at the trip's end. This trivia contest had a very special prize.
Trivia contest? This trip didn't have a trivia contact last year!
"I bet that the prize is books," Jonathan deadpanned.
Fornes narrated the Straits of Mackinac, the Round Island Lighthouse, the Coast Guard cutter now on dry dock as a museum in Mackinaw City, and, OF COURSE, the Bridge.  Fornes said after each point, "Pay attention. This might be a question on the trivia contest."
Finally, towards the end of the trip, Fornes announced that it was time for the trivia contest. He said, "We are going to randomly pick two names from the passenger manifest."
The first name that Fornes called yielded no response.
Fornes said, "Well, it's time for me to pick a second name. And this person can select an extra contestant of their choice, since we have an extra slot for this contest."
Forbes called the name of a young man. He asked the young man to come to the front of the boat with a guest of his choice. The young man brought a young woman with him.
Forbes said, "And how does the young lady have the honor to be here with you for this contest?"
The young man said, "I'm a very lucky man."
Forbes said, "Here is the first question. How long is the Mackinac Bridge?"
The young man said, "Five miles."
Forbes said, "That's correct. You now get to ask the young lady the second question."
The young man took the microphone, turned to the young lady, and said, "Will you marry me?"
Everybody on the ferry clapped.
I told Jonathan later that every non-engaged guy riding that boat with his serious significant other Monday evening now felt the pressure to step up. Not only to propose, but to craft a proposal with the same planning and element of surprise.
---
I didn't get any photos of the engaged couple, but here are some ones that I did take:
Here is  the Coast Guard cutter.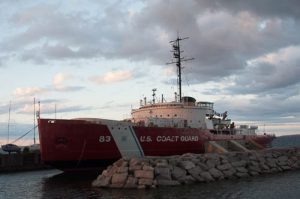 Here is the Round Island Lighthouse on Mackinac Island the night before a full moon: