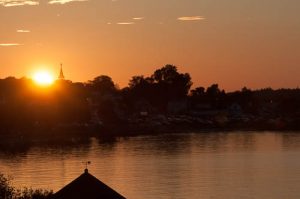 Life moves according to some sort of plan. Then suddenly it doesn't. Everything changes at one single point in time.
I bet that everybody who reads this blog already knows about what happened last week, but I blogged today so that future entries on the subject will make more sense.
On Memorial Day weekend in 2015, my husband Jonathan's family buried Jonathan's grandmother, Babcia. Babcia was the mother of Jonathan's mom Fran.
In May 2016, my father-in-law Dr. Dennis Woytek, retired from his faculty position in the Department of Journalism and Multimedia Arts at Duquesne University. We Woyteks (his wife and their kids and the kids' spouses and their grandkids) all attended a retirement reception at Duquesne that included a bunch of yummy food.
In late June, Jonathan received a job offer at Carnegie Mellon University. This is where Jonathan worked before he became a high school teacher five years ago. He arranged a start date of mid-August. Jonathan was so excited to share the news with Fran.
In mid-July, Jonathan and I traveled to Michigan to spend two weeks on the Upper Peninsula of Michigan (the UP) with Jonathan's parents, Dennis and Fran. Jonathan's sister Marissa and her family joined us for the second week of the trip.
For background, Dennis worked at a radio station in St. Ignace, Michigan for the first three years of Dennis and Fran's married life. St. Ignace sits at the southern tip of the UP, next to the northern end of the Mackinac Bridge. Dennis and Fran fell in love with the UP, even though they moved back to Western Pennsylvania after their stint there. They brought their three kids to the UP for vacations. After Jonathan and I got engaged, Fran invited me to vacation in the UP with them. I too fell in love with the UP.
To get back to the story, Fran and Denny arrived in St. Ignace, Michigan on July 16 and Jonathan and I joined them a few hours later. We rented a house right there on the bay, and we spent the next two weeks watching the boat traffic enter and leave the harbor, along the coast of Lake Huron.
On July 17, we – Dennis, Fran, Jonathan, and I –  sat on the back porch of the rental house and watched the sun set behind the bay. I took the photo that you see at the top of this blog entry. Dennis and Jonathan are both much better photographers than I am, so they coached me through the shot. I actually took the photo, though.
July 19 was my birthday. Fran baked me a chocolate cake topped with crumbled peanut butter cups. Fran loved to cook and bake, and mine was the last birthday cake that she baked. That night, we got takeout from a popular St. Ignace restaurant and we – Dennis, Fran, Jonathan, and I – ate dinner in the park next to the Mackinac Bridge, on the Straits of Mackinac. We watched the bridge light up in the twilight.
On July 22, we – Dennis, Fran, Jonathan, and I – drove along the coast of Lake Michigan, then up north to Munising on Lake Superior. Jonathan and I rented a pontoon boat and we took Denny and Fran on a trip along Lake Superior to see the Pictured Rocks. Here is my blog entry about the trip.  Fran told us that she wanted to see Miner's Castle for years, and she was glad that we took her to see it
Fran impressed us by agreeing to actually get on the boat with us. Even though she lived in the UP for three years, she had a lifelong fear of actually being on the water. Here is my blog post about her decision to only travel to Mackinac Island on the largest ferry boat available.
(Let me say that Dennis and Fran lived in the UP when the Edmund Fitzgerald went down in 1975 and Dennis was one of the first people to actually report the news about the Fitzgerald on the air. They remembered well the actual storm that caused this tragedy. So on my first trip to Michigan, they took me to Whitefish Point on Whitefish Bay. A memorial to the crew of the Fitzgerald sits next to the lighthouse there. On that first trip of mine to Lake Superior, Fran made sure that I picked up a large red Solo cup's worth of colorful stones from the shore, right there next to the lighthouse and the memorial at Whitefish Point. )
On July 31 Jonathan and I returned from Michigan. Denny, Fran, and Marissa's family all returned to Western PA within a few days after we did.
On Friday, August 5, Fran and Denny came over to our house and watched the opening ceremonies of the Rio Olympics with us. I was tired because I got up at 5 a.m. that day to go to work, so I went to bed halfway through the ceremonies without saying good-bye to anybody.
On Sunday, August 7 Jonathan and I went sailing at Moraine State Park. We received a message from Joanthan's parents that they had arrived safely in Maryland to visit Jonathan's sister Sarah and Sarah's family.
On Monday, August 8 Fran passed away suddenly.
Jonathan's entire family is heartbroken and devastated. Obviously, for as badly as I feel, Jonathan and his dad Dennis and his sisters Sarah and Marissa and his Aunt Joany and his Uncle Andy feel much worse than I do.
There's so much more I want to write, but I just can't.  I buried the lede on this blog post, and I don't care.
Fran was so supportive of this blog. She was always one of the first people to "Facebook Like" each entry. She always told me how much she enjoyed my posts.  She shared them with her friends. Her love for Northern Michigan and her advocacy of New Kensington shaped much of what I wrote here.
Dennis and his kids laid Fran to rest in her Mackinac Island sweatshirt. I gave her some of those stones that she told me to pick up from the shore of Whitefish Point.
Jonathan started his new job yesterday. He and I went out for dinner and milkshakes in downtown Pittsburgh. That's where we are at this point.