Confessions of a Train Passenger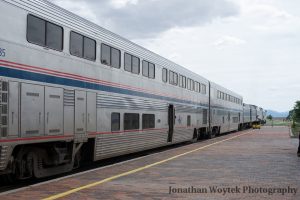 I like to watch and listen to strangers in public. At the park. In restaurants. In stores. On the train.
Several years ago, I rode the Amtrak by myself from Washington, D.C. to Pittsburgh. The Capitol Limited. I sat in the coach section.  A man and woman sat behind me. They were both white and slightly older than myself. This couple – especially the man – talked throughout the ride. To each other and to the conductor. Also, the man spent large portions of the ride talking on his phone.  I never spoke to this couple, and yet I learned much.
The man grew up in Connellsville, PA. He most recently lived in Louisiana. He and the woman had just taken the Amtrak from New Orleans to Washington. Now, they travelled from Washington to Connellsville on the Capitol Limited.  At which point they intended to show up with no prior notice at the home of the man's parents in Connellsville.
The man had not seen his parents for 17 years.
During the course of our train ride, the man called various friends in Connellsville. He needed someone to give them a ride from the train station to his parents house.
So that he could show up unannounced on his parents' doorstop after 17 years.
In between these phone calls, the woman asked the man if he thought that his parents would like her.
The Amtrak stops in Connellsville before it reaches Pittsburgh. This couple disembarked and I never heard from them again.
Today I thought about posting a "Lost Connection" ad to see if I could learn the ending of this story. Post it where, though? Facebook? Reddit?
Or maybe somebody who knows the ending will Google "Amtrak" and "Connellsville" and find this blog.