10 Days of Hotel Travel in a Hill People Gear Aston House Backcountry Pack
I recently had about 10 days of hotel-supported travel for work, and decided to see if I could make 10 days work in the Hill People Gear Aston House Backcountry pack. I had purchased this pack with an eye to carrying a few days plus my EDC pack docked to it, so everything would fit on my back. 10 days is a little out of my intended range, but I figured I'd give it a shot and see if it would work.
The Aston House pack has top- and side-carry handles that allow it to be carried somewhat like a suitcase. With my EDC pack nearby for the trip anyway (and therefore not docked to the larger pack), this allowed me to use that space to carry more stuff in the big pack, and wear the EDC pack normally to get in and out of the hotel. For the actual work activities while on-site, the laptop and associated stuff would fit easily in the big pack compressed down with the cinch straps, and the EDC pack docked to it so I'd have my every day stuff with me.
To make all this work, I used three "packing cubes" to fit all of the clothes I would need, my regular toiletry bag, a padded laptop sleeve I had purchased many years ago for use in a messenger bag, and a zippered pouch for cables and adapters.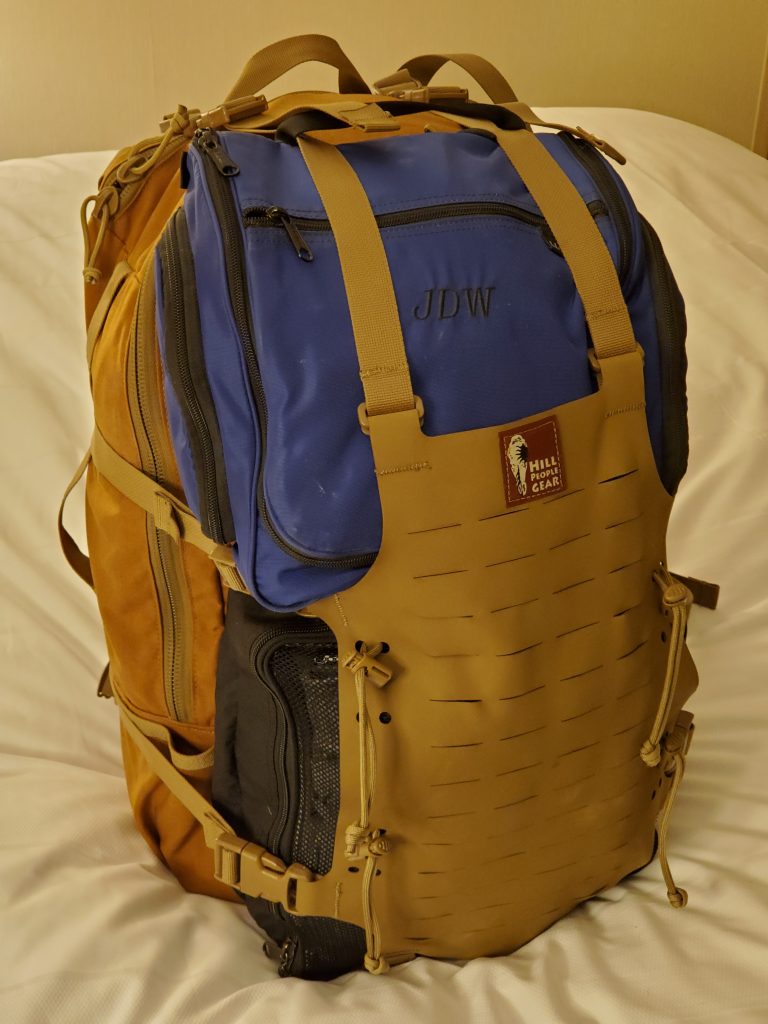 The loaded pack had two packing cubes, the laptop in its sleeve, the cable pouch, and the Anker multi-port USB charger and cables (loose, because I forgot about them until I was almost done packing, and because they would be the first thing to come out in the hotel and the last thing to get packed before I left to go home). In the outside space between the pack and the compression panel went the third packing cube and the toiletry bag. This configuration proved beneficial for my trip home, where I stopped in Erie for a night, and I could grab just packing cube with the clothing I needed for the night and the toiletry bag, leaving the bigger pack (now mostly filled with dirty clothes) in the car.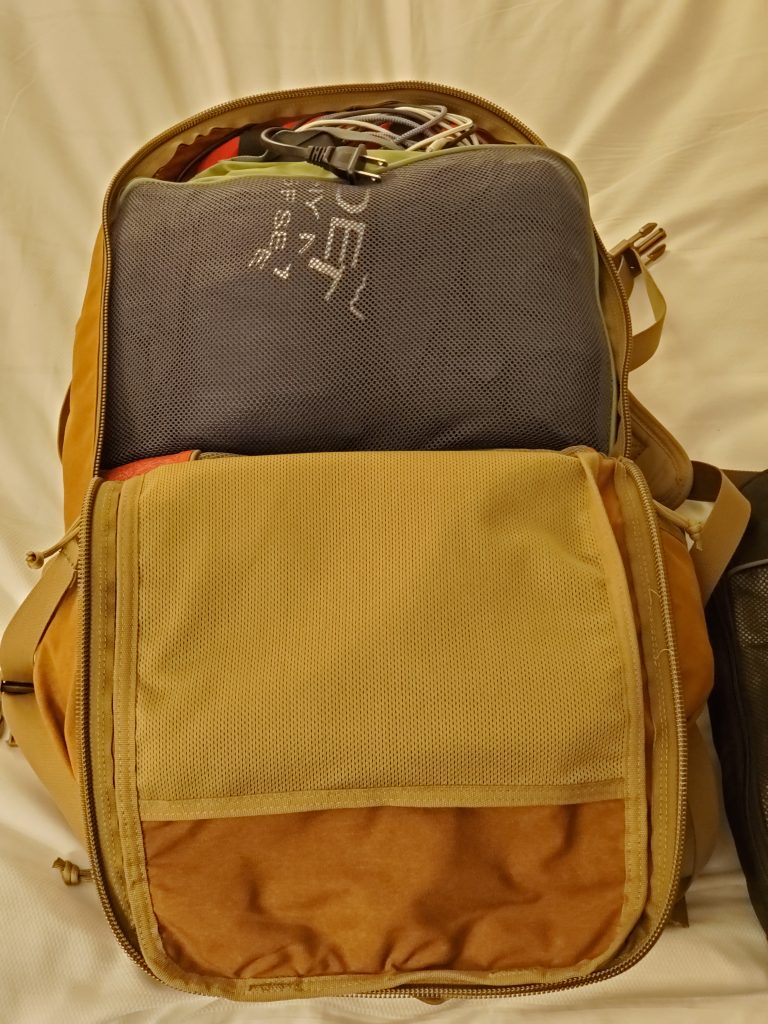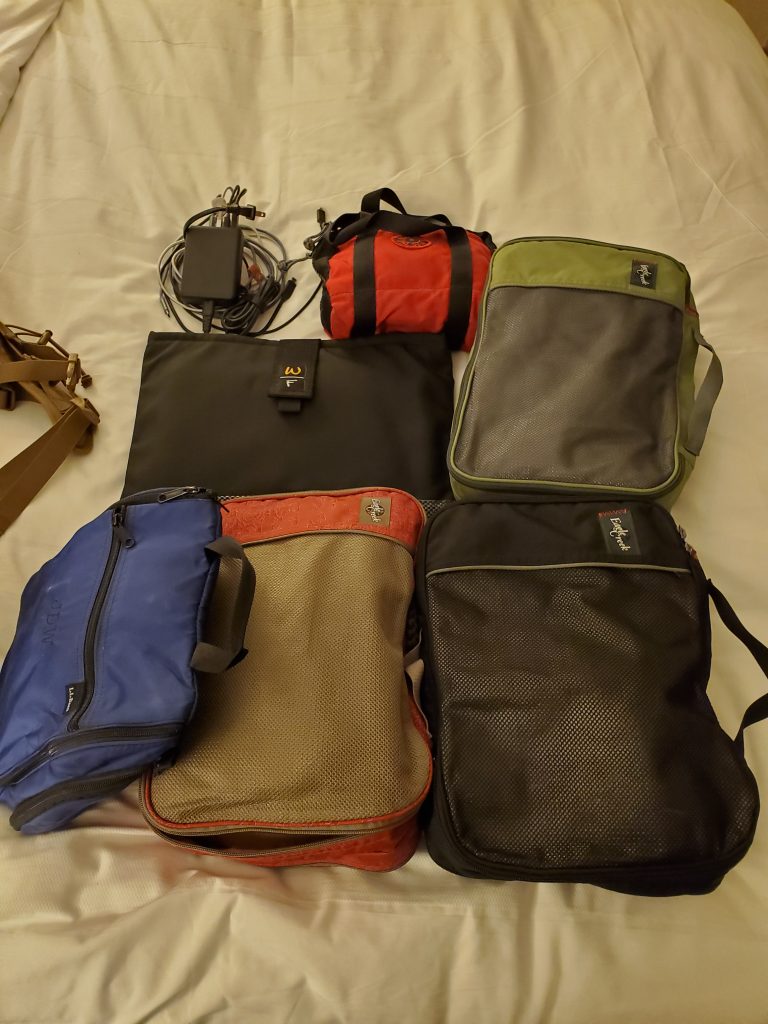 Overall, this was a good way to carry what I needed for this trip. In addition to this pack (which I hand carried into the hotel), I had my EDC pack that I carried on my back into the hotel, my small camera bag (a Domke shoulder bag) that I had on my shoulder, a cooler (hand carried), and a bag with some snacks for the room (also hand carried). My usual option for this trip is a laaaaaaaarge North Face duffel that I typically throw over a shoulder or hand carry. So, overall, this didn't represent a major change in how I physically carried stuff into the hotel for this trip. However, since I needed the larger pack anyway to transport my laptop and other items to and from the work site every day, it did represent one less bag that I had with me. I do think, though, that this is about the maximum I'd ever want to actually carry in this configuration. I'm a big dude, of course, so my clothing takes up more space than someone of a more normal size. Take that into account if you're reading this and considering how much you can fit into the bags.