Evolving My Every Day Kit: Review of the Tarahumara Pack and My Current EDC
Like most everyone, there are some things I like to carry with me on a regular basis. That list of things changes depending on what I plan to do, where I am going, how far away from "home base" I might be, who is with me, etc. There's a term for this that has gained popularity over the years: Every Day Carry, usually abbreviated to EDC. I like to make a further delineation, so I have the items I carry on my person everywhere I am able to carry them–my EDC–and I have the set of things that change with the situation, which I like to call my Every Day Kit (EDK). My EDK is usually more stuff that I would want to carry in pockets, and so it goes into a bag of some sort. I have been evolving what I carry and how I carry it, and here I'll talk about my current evolution and how I got to where I am now.
The Every Day Carry (EDC)
First, I'll introduce my actual EDC, the things I carry on my person everywhere I am able:
This selection of things is pretty small. Most everything is in the photo, but a few items didn't make it. Clockwise from the top:
Buck 055 pocket knife
Black Helmet recycled firefighter turnout gear tri-fold wallet
Leatherman Rebar multitool
Streamlight ProTac 2L flashlight
Plain white handkerchief
Chapstick
USB "thumb" drive
Change (at least $1 in various coinage)
Keys (car, house on different small rings)
The knife, multitool, and sometimes the flashlight have to be omitted when attending events with strict rules about what one can have at the venue. The flashlight is the last thing I will remove from that set, and that's only if I can't figure out how to get it through the door. I feel that light is one of the most important things to have in an emergency situation in an enclosed area and at night in any area. I have argued my point a few times and have won. I haven't had to leave it behind a bush outside a venue yet, so I guess that's a win.
The ProTac is a good flashlight. It uses CR123 batteries, which have a long shelf life and are pretty compact, so it is easy to carry spares. It's a bright light with a programmable tail-cap button, which supports momentary-on and click-on. I have it set up for full-bright first, then strobe, then low-power third. I keep meaning to swap the last two so I don't have to cycle through strobe to get to low-power. I've been carrying this light for a bunch of years, as evidenced by the fact that the anodized coating has worn off from most of the light (it is supposed to be all-black). It has been a great performer, though I'm looking at replacing it with one of the newer lights that use the 18650 rechargeable battery.
The Buck knife is the half-sized counterpart to the popular 110. While the Leatherman has a knife (two, in fact), I find it a lot faster to pull out the little Buck for opening things, slicing fruit or veggies when out and about, and general small cutting needs.
The Leatherman Rebar is a nice selection of tools. Somewhat more functional than the Skeletool CX I carried until it went missing with someone who had borrowed it from me, it is not nearly as heavy as a Supertool model, which I carried prior to the Skeletool.
The Every Day Kit (EDK)
The EDK needs a bag of some sort, as it is usually more than I would willingly carry in my pocket. My every day kit bags have varied from backpacks, to laptop shoulder bags, back to backpacks, back to a fancy Saddleback leather shoulder bag, back to a backpacks, to a messenger-style bag, and then back to backpacks again. Backpacks seem to fill the need best for me, but I've had a lot of trouble finding a bag that fits my oversize frame comfortably, while not being an oversize bag itself, and providing the features I really wanted.
Enter the Tarahumara from Hill People Gear:
This is a small (listed capacity at 16L/1000ci) bag, with two external wand pockets that will fit 32oz Nalgene and similar sized bottles and canteens, a bottom paracord loop to hold an extra layer if needed, and dual horizontal compression straps. The shoulder harness is unique in that it is a continuous "U" of lightly padded fabric, designed to fit behind the neck and drape over the shoulders. It is, by far, the most comfortable backpack harness I've ever used. It did take some tweaking to get the fit just right, but it was worth the ten minutes or so that I spent on it!
The interior of the bag is totally empty, save for a hang loop at the top center. This was perfect for my needs, as I have been transitioning my every day kit to pouches that I can mix and match depending on what I'm doing and where I will be. I had been frustrated in the past at enforced organization that never really fit what I needed to carry, so not having a bunch of extra pockets and such is an advantage here.
The simple paracord loop at the bottom solves one of my frequent needs as a bus commuter: It will easily accept the light jacket I wore in the morning when it was 35F outside, while not overfilling the bag or making it unnecessarily bulky when I head home and it is 70F outside. The wand pockets accept my compact umbrella on one side and my water bottle on the other.
Inside, the Tarahumara (Tara for short), I carry a selection of bags/pouches that carry the rest of my kit. On this particular day, I was out on a short hike with my wife at Linn Run State Park. I could have eliminated a few things, but I kept them in because I knew I'd be doing these photos, and they are part of my normal commuter carry. From these photos, the only thing I omitted that would normally be there is my umbrella (a Knirps multi-fold thing that weighs a bit but covers my oversize self pretty well).
Here's the basic gear collection. Eh, this is hard to describe in this layout, but I'll try to do it by rows, starting from the top:
LL Bean trigger cup
Hill People Gear stuff sack
Maxpedition "Beefy" pouch with my carry-everywhere kit (kept clipped to the top loop in the bag)
Wera tools micro screwdriver set and regular screwdriver set
Pack towel
Maxpedition "EDC" pouch with device power and accessories (also kept clipped to the top loop in the bag)
Backup eyeglasses
Maxpedition "EDC" pouch with a basic first aid kit
The LL Bean trigger cup is great for carrying sparkling water, one of my go-to hydration choices right now. I might replace it with a larger Hydroflask at some point (which will also fit in the side pockets), but this cup works well for the moment.
The stuff sack is carried empty and takes up almost no room, but it can double the capacity of the pack in a pinch. It is designed to attach through the compression straps to the back of the pack. If I were to need to carry some extra stuff to or from the office or home, or I needed to take an extra thick layer for a wider than normal temperature swing, or what-have-you, this stuff sack would be where that stuff would go.
The pack towel is some kind of natural fiber towel that dries quickly. It sits behind everything else and is pretty flat. It has come in handy when I've needed to dry off after horizontal rainstorms, getting drenched when a bus hit a puddle too close to me, or when I've ended up on an urban hike and got a little sweaty without a change of clothes on me. Getting dry is especially important in colder weather. It's always in the pack, just in case.
I can't see worth beans without my glasses. They're so important to my ability to function that I carry a spare set. I've only used my spare glasses a handful of times in 20 years that I've carried a set, but those handful of times would have been seriously more dire if I did not have them. They're usually my last prescription, so not perfect replacements, but enough to get me out of wherever I am safely. These are a survival need for me.
The carry-everywhere kit is the one pouch that goes pretty much anywhere I'm going. It carries a bunch of stuff. In the front mesh pocket on the outside are cleaning wipes for my glasses and hand sanitizer wipes. On the left:
Left Side:

Pens
Mechanical Pencil
Sharpie
USB memory stick
Spork
Leatherman Style CS

Left Pouch:

Plastic poncho
Spare AAA eneloop batteries (headlamp)
Spare CR123 batteries (flashlights)
ActionWipe cleaning wipe

Right Side:

BlackDiamond headlamp
Hand sanitizer
Aveeno moisturizer
Ibuprofen tablets
Rite in the Rain top-spiral notebook (in the back)
Surefire G2 flashlight (CR123 LED version)
Booboo kit (knuckle and strip bandaids, antibiotic ointment)
Sinus meds
Eyeglass shields (flat and molded side shields)
Microfiber optics cleaning cloth in plastic case
Buck 110 knife

Right Pocket:

Baggie with twist ties, rubber bands, paper clips
The small first aid kit is not a full IFAK/trauma kit, but it contains things to help with many injuries with the expectation that real medical care is within a reasonable response timeframe. Bandaids, gauze (adhesive and non-adhesive), quick-clot gauze bandages, burn gel, common meds (painkillers, allergy, diarrhea, antacid), antibacterial ointment, hand sanitizer wipes, ActionWipe cleaning wipes, tape, and some non-latex gloves. I have an Israeli bandage that I'd like to fit in here, but I haven't done that yet.
The device power/cord pouch is pretty limited right now, as I have a couple of cables removed from it. Anker power pack, micro USB cable, USB-C cable.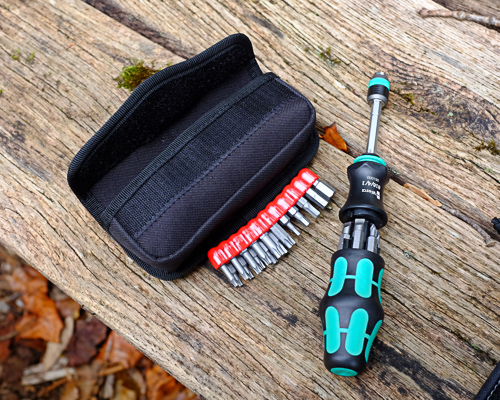 These Wera tools were great finds. I work with a lot of technology and some mechanical things, so I often need useful tools. My Leatherman is great and is usually my go-to tool because it is physically on me everywhere, but having more appropriate tools can make a real difference in the ability to fix something (or, more appropriately, to fix it in a way that will not require more fixing next time around! 🙂 ).
Top is the Wera Kraftform Kompakt 25 screwdriver, with bit storage in the handle and an extending shaft that can be removed for use in power drivers and such. Into the Wera pouch I added a bit holder where I included additional bits to cover torx, hex, secure torx, secure hex, and posidrive. This screwdriver is amazingly compact stored, but with the extended shaft, it can reach places that typically require a regular screwdriver. At work, I also have the Wera Kraftform Kompakt 62 set, which is even better, as it has a nice handle, but the drivers are long-shaft, so they can reach deep screws with no clearance.
The lower photo is the Wera Kraftform Kompakt Micro-Set/11SB, which contains 10 micro drive bits of various types and a handle. The handle will accept any micro bit that uses the half-moon or slotted standard. The bit selection includes most everything I need in tiny sizes, including philips, slotted, and torx, and hex.
Conclusions
So far, this has been the most functional evolution of my daily carry system. I'm finding some small things that I want to change, but that list has been pretty short, and everything on it has been minor. The bag itself has been really comfortable. Our hike this weekend was a good test, too, as I was moving through a much larger range than I might typically do while walking in the city.
I did get a couple of things for the pack that I didn't show here. One is a Kifaru small lightweight pouch to put the tools into. I found at one point that one of the bits fell out of the micro case. I found it and it hasn't happened since, but I'd rather avoid that possibility. It also makes it much easier to just remove "the tools" without having to locate both tool cases, and gives me a bit of space if I ever wanted to throw in a small wrench or something. The other is a Kifaru small three-string compression sack that I intend to use for the extra layer I often have to carry home that I strap to the bottom of the pack. This is primarily just to clean up that layer and make it easier for me to stuff it without paying close attention to how I'm rolling it. It also gives me some more flexibility if I wanted to carry a second layer or something maybe a little more bulky, as the compression sack will let me shrink down bulky stuff more easily.
As an aside, part of my plan with going with the small Hill People Gear pack was to try the shoulder harness concept they have. It is the most comfortable pack I've ever worn. My intention was to use the small pack as a daily pack, and be able to attach it to any larger pack I might get for multi-day excursions. I liked the shoulder harness so much that I already bought the pack for multi-day use, and I got the Hill People Gear Aston House Backcountry. The cool part about the Hill People Gear stuff is that much of it is designed to be interoperable. I can attach the Tarahumara to the Aston House pack in the back, or put it behind the Aston House compression panel, and it fits great. Doing that means my daily kit stays in the Tarahumara, and it is ready when I get to wherever I'm going so I can just grab it and leave the bigger pack at home base.
Double bonus: The Hill People Gear and Kifaru stuff is all made in the USA. This is not a hard requirement for me, but it is nice to support people who are making this kind of gear here.
More to come as the system evolves, I'm sure!