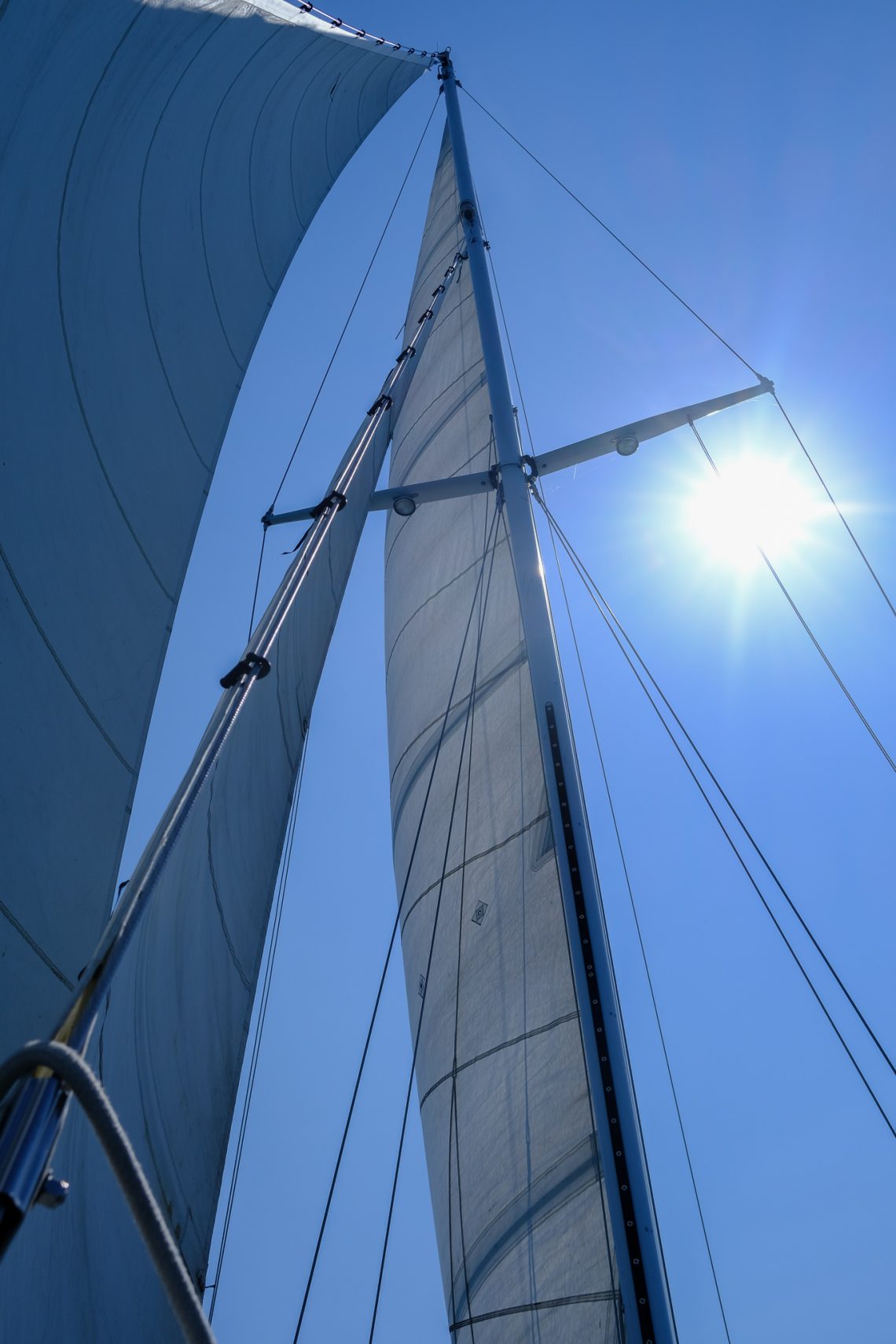 For anyone who has done any real sailing, this is going to be super boring. Just fair warning. Heck, it may be boring to everyone else, too.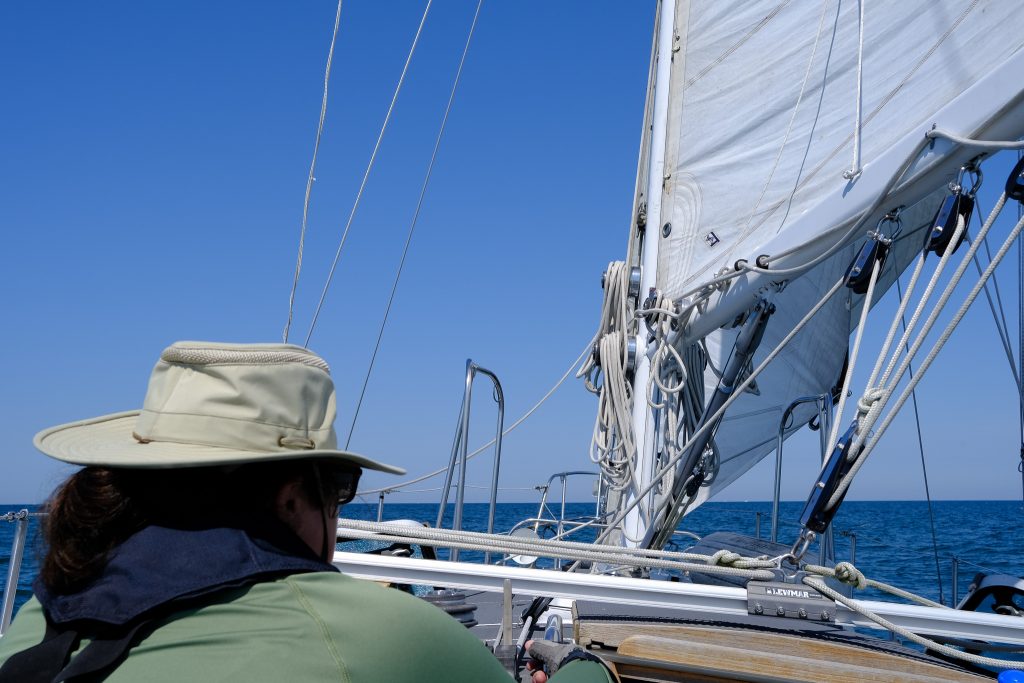 Jenny and I are now into our second season of sailing Pinniped. In fact, sadly, I'm now starting to think about winter layup, as that isn't all that far off now. But, back to happier matters for the moment. We have been concentrating on fair-weather daysails. I have been using our time on the water to get in tune with Pinniped's handling characteristics, sail trim, seeing what points of sail are fast, which ones are comfortable, and gradually expanding my skill set and repertoire of techniques for sailing a bigger boat. Jenny has been getting some tiller time, getting familiar with steering a course, becoming an excellent line handler while docking, and learning how to help with trimming the jib and mainsheet traveller. While we've been doing this, we haven't been really concentrating on going in any specific direction. Rather, we go where the wind will take us (and return us!) easily, giving me sea room to practice and play with things, but generally keeping us in a good orientation to work on sail trim for speed and/or comfort.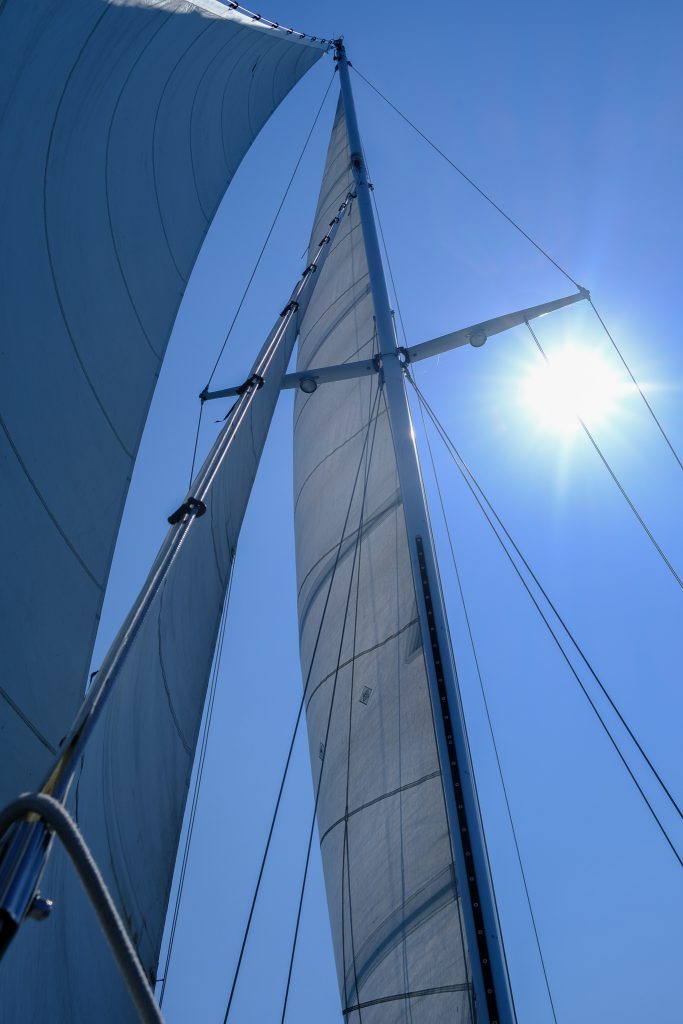 At some point, it would be nice to go somewhere. While we're not quite there yet, I wanted to start to spend some of our trips making progress to some destination, even if we just get there and turn around. It is the route planning and execution that we had not really practiced yet. We made a couple of attempts, but these were usually abandoned because I just didn't have the sail handling skills yet to strike us out on a good course and make reasonable progress in any direction that was close to the wind. Since the prevailing winds around Erie are from the West, going up or down the US coast often requires sailing close to the wind. And, especially since Canada is closed to US sailors right now, a North-South route is fun, but not productive.
This weekend, we saw reasonable wind forecast for Saturday, so we made the trip up Friday evening and prepared for a sail Saturday morning. We both woke up with the sun, so we got ourselves and Pinniped ready, and we were departing our slip around 8:30AM. We got all sails up in the bay, but with light winds in the protection of the peninsula, we motored through the channel and out into the lake. We shut down the engine right outside the channel. The winds picked up nicely out there, hanging comfortably between 5-10 knots, mostly out of the South-West, slowly clocking throughout the day to the West, and then West-North-West.
I decided we would head into the wind and make our way around the peninsula and south-west towards Walnut Creek. We made a few good tacks out on the lake as we progressed. I wasn't pinching as close to the wind as Pinniped would go, opting to stay just a little off the wind to keep our speed up. It was a warm day, so this kept us a bit more comfortable. The wind was also slowly shifting most of the day, and I am really not super at trim yet, so we could have made better progress. Regardless, it was a pleasant sail and we made good way.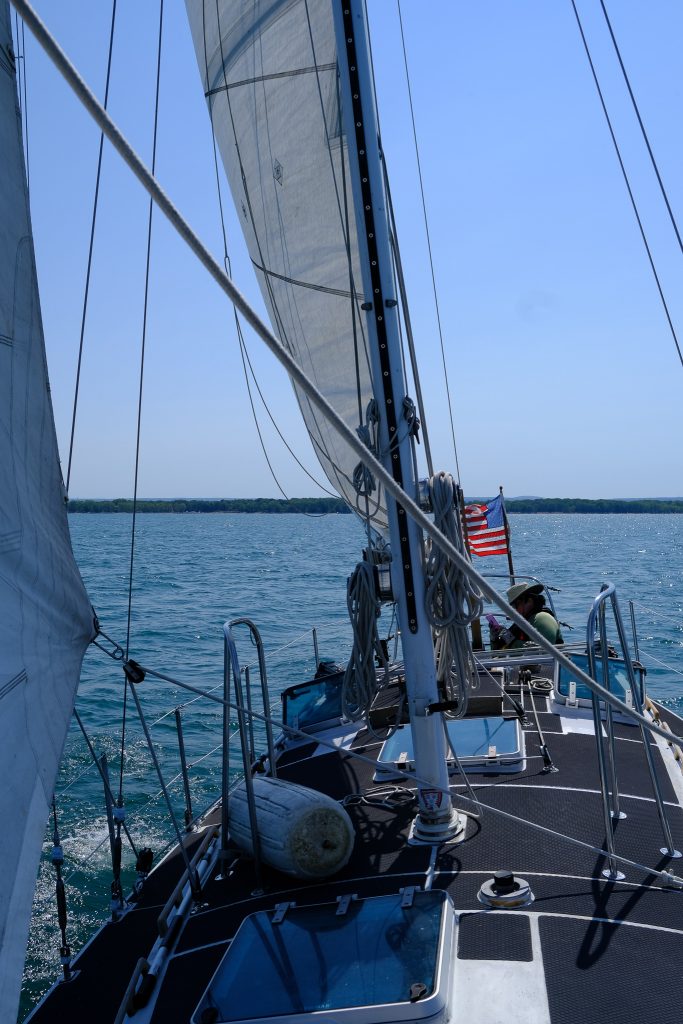 Way out off the western side of the peninsula, I tried heaving-to in Pinniped for the first time. I wasn't sure if we would have to drop the stays'l if it was flying. Our stays'l is self-tending, so if we wanted to backwind it, we'd have to tie it off on the windward side. Our jib is not self tending, so it would backwind if left cleated. I was happy to find out that we were able to heave-to easily. I let the stays'l sheet run free, tied the tiller to windward, and we sat there, gently slowed to a crawl, sitting nearly flat and calm. We could have easily fixed and eaten a meal, made more coffee for Jenny, repaired something that needed fixed, waited out some unfriendly weather, etc. I used the time for a quick pit stop and drink refill for both of us, then came back up, untied the tiller, sheeted in the stays'l, and sheeted in the jib on our new tack, and off we went.
As we neared Walnut Creek and its marina, I noted the time and decided we had better get ourselves turned for home soon. We were going to be sailing downwind towards home, which is comfortable, but can be somewhat slow. After making some decent progress on a really broad run, I noted that our speed was dropping and we were starting to bob around a bit, causing our autopilot some grief. The wind was dying earlier than expected. I put us onto something more of a beam reach to try to gain a little speed and make some better progress, but the wind just dropped out from under us. I had seen a wind hole in the prediction maps that was supposed to show up sometime after 7PM, but it was early.
We were making less than two knots on a beam reach. Downwind in the direction we actually needed to go, we could barely make a knot. It was time to get some power assist from dead dinosaurs, so we fired up the engine and set a course for the Presque Isle Bay channel. We dropped the headsails as we approached the channel, leaving the main for stability and in case of problems.
We had heard people call in sightings of two different deadheads (trees) floating in the water around the channel while we were out, and we saw both of them on our way back in. During the day, we had also heard a bunch of distress calls both on the US and Canadian sides of the lake, including a boat that was sinking in Presque Isle Bay with something like 12 people on board (all were rescued by other nearby boaters and the Coast Guard, and the boat was towed in for dewatering–we still don't know much about this incident, as the news didn't have much information that day). It was not a rough day, so we're not sure if there was just a lot of bad luck, or what. Our day, thankfully, was free of incidents.
We arrived back in our slip with nearly no wind present, making for an easy tie-up. I made sure the boat was secure, we ordered some food, and took it over to the peninsula for a nice dinner as the sun slowly set on a beautiful day. We finally went somewhere!