Some Summertime Bread Baking
I like to make bread. I like to eat bread. I like to know what I eat, so I particularly like to eat bread that I make. Usually, bread baking takes a bit of a back seat over the summer months. Most of the breads that have become my favorites need a good few hours of time to prepare. During the summer, we spend a lot more time doing outdoor things (and, this year, more time in Erie with Pinniped), and so the available time for bread making is cut back.
Today, I was planning to work from the home office, and I was thinking about what to do for lunch. I had made some southwest-style pulled pork butt the other day to go in my "taco salad" (and ground beef for the Jenny), and I was thinking that a nice flatbread would let me make some flatbread-style sandwiches with some of the leftovers. I've made tortillas in the past, and those are fine, but this time I was really looking for something more like a flatbread.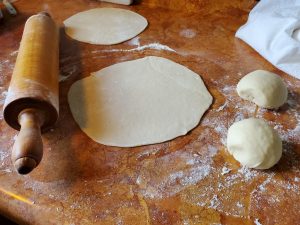 I had a recipe from King Arthur Flour that I wanted to make. I decided to make a few modifications, though, partly based on what I had available, and partly to see if I could make something better than my first take on the flatbread back in the ealy spring.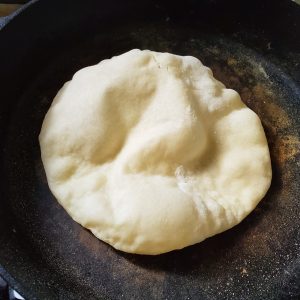 The original recipe calls for potato flour or potato flakes. I didn't have either, and I didn't the last time I made this bread, either. Cornstarch is a 1:1 substitute for potato flour, though, so I went that route. The major purpose of the starch is to help retain some moisture in a bread that could otherwise easily dry out during baking due to its thin profile. I'm sure the potato would proabably add a nice flavor profile, but since I didn't have it last time, using the cornstarch again let me do a better comparison. Also, I have been strongly preferring bread flour for all the breads I make now, so I used bread flour instead of all-purpose.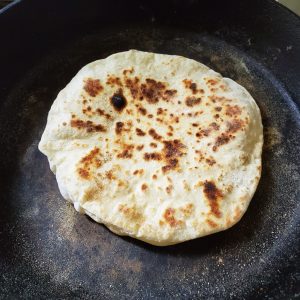 The dough is pretty easy to make. Interestingly, it uses boiling water to partially cook the flour before combining with the yeast and additional flour to form the dough. This is supposed to help develop a chewy texture. It seems to work. After the cooked flour/water paste cools a bit, the remaining flour, cornstarch, yeast, oil, and salt are added and kneaded until a smooth dough ball forms. This can all be done by hand, but I used the trusty stand mixer with a paddle to combine the water and flour, and then switched to the dough hook when I added the rest of the ingredients.
I turned out the finished dough ball into a bowl coated with spray oil, covered it, and let it sit while I did some work. I took a break about an hour and a half later, and the dough had risen nicely. I turned it out onto the counter and divided it into eight pieces, then formed those into balls. I covered those, washed up all of the dirty stuff, and went back to do some more work.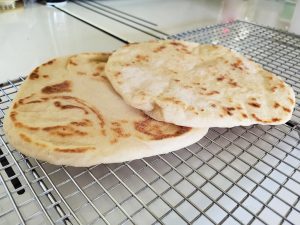 Around lunchtime, I put my cast iron pan over medium flame and let it heat up. While that was heating, I rolled out the first few balls into 8-inch or so rounds. With the pan up to a pretty consistent temperature, I dropped the first bread in and dry-fried it (no oil or anything) for a minute or so per side. They'll make steam pockets and bubbles. This is OK. I would gently flatten them a bit before flipping them so that they'd cook as evenly as possible.
As I removed them from the pan, I stacked them on a wire rack to cool. I rolled the other balls into discs as I had counter space. I had to try the first one while the next one was cooking, so I only ended up with seven finished pieces, but eh… it was worth it. That's actually a baking requirement. The first one never counts because it is for "testing." 🙂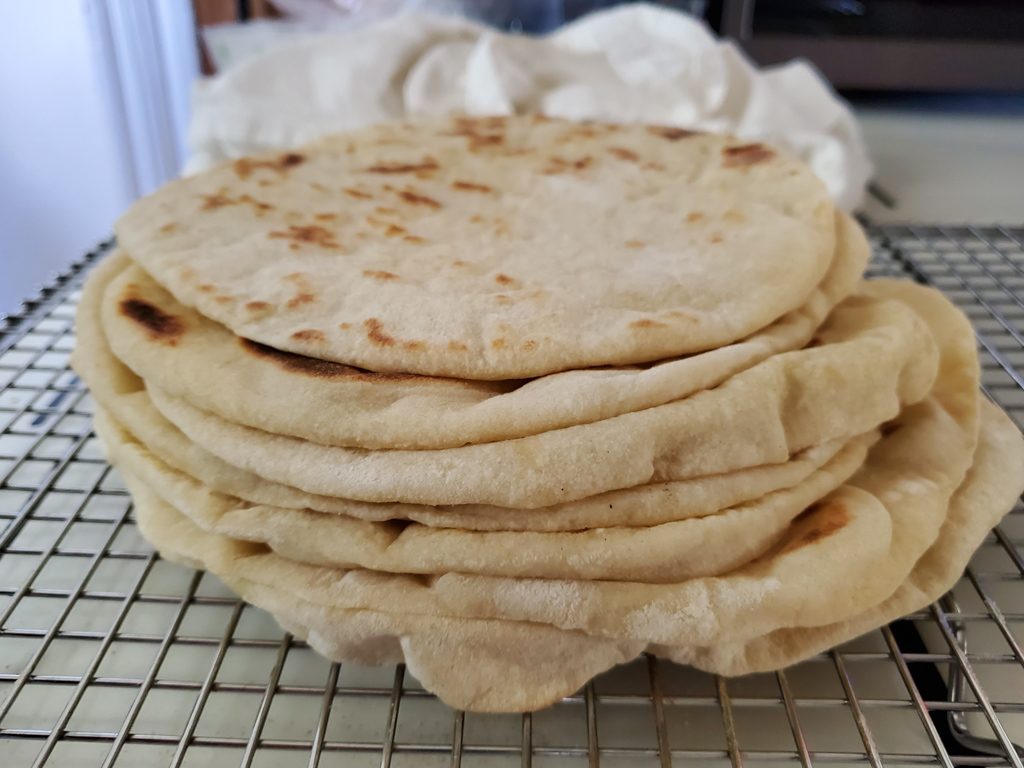 When all was said and done, I sat down to two nice southwest pork wraps on these breads, some rice and beans, and a nice, cold glass of iced tea. These were really easy to make, did not heat up the kitchen appreciably since the oven was not involved, and the fermenting (rising)/resting stages were not super time-critical, so I could work them around my work schedule.
---
Soft Wrap Bread
Adapted from: https://www.kingarthurflour.com/recipes/soft-wrap-bread-recipe
Ingredients
About 3 cu. Bread Flour (plus extra for dusting, etc.)
About 1-1/4 cu. boiling water
1/4 cu. cornstarch
1-1/4 tsp. salt
2 tbsp. vegetable oil
1 tsp. instant yeast
Process
Place 2 cups of flour in the mixer bowl. Pour in the boiling water and stir to combine (I used the paddle on the stand mixer). Set aside to cool for about 30 minutes. This is important so that you don't kill the yeast.
In a separate bowl, whisk together the cornstarch, the remaining cup of flour, and all of the salt, oil, and yeast. Add this to the cooled flour/water paste. I used the dough hook to combine and knead until the dough was smooth. It should be a little firm and tacky, clearing the sides of the mixer bowl.
Spray a bowl with oil. Turn out the dough, form into a ball, and place in the bowl. Cover and let ferment for an hour or so. It probably won't double, but it should rise a noticeable amount.
Punch down and turn out onto a work surface. Divide into eight pieces, and roll each piece into a ball. Cover and let rest for 15-30 minutes.
Heat your empty pan to dry-fry the breads. Roll each piece into a round about 8″ across. Dry-fry each piece until it just starts to brown on each side. The original recipe says about a minute per side. That's about what I did, and they turned out great.
Transfer each bread to a wire rack to cool. Stack them to help keep them soft. If not being served immediately, cool them on the rack and store them in a plastic bag. The original recipe says they'll keep up to four days. You will probably never find out, because they'll be gone much faster than that.
The only other note I would provide is that this recipe should scale up pretty easily. A simple doubling of everything should work. You might find that you need to add a extra spoonful or two of flour or water, depending on the local humidity, how dry your flour is, etc. If I was doing more than a single batch of these, I might roll out all of them and stack them between sheets of parchment paper, and use a second pan or a double-width griddle or something to let me fry up more than one at a time.