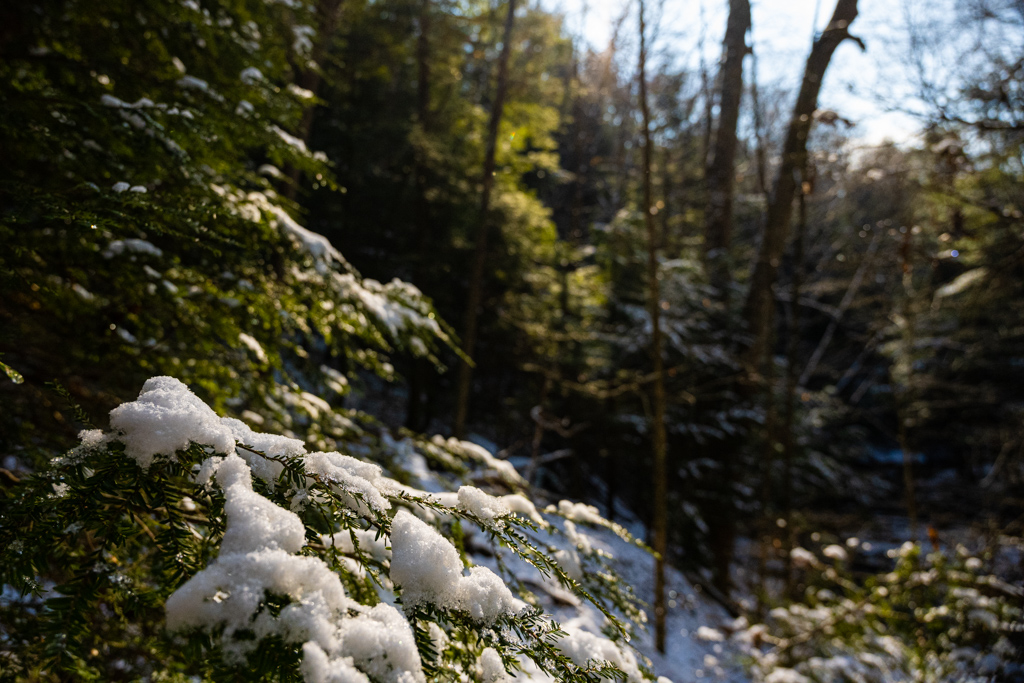 Winter Hike at Todd Nature Reserve
I'm not sure I've ever explored The Audobon Society of Western Pennsylvania's Todd Nature Reserve, which is funny, since it is maybe 20 minutes from our house. I planned to do it sometime over the last few days, and today was absolutely the right day to go. Sun, blue skies, a light bed of fluffy snow on the ground, pretty tiny crystal snowflakes falling from the hemlock boughs whenever a breeze moved through…. It is actually hard to think of better conditions for a winter hike. I loaded my pack this morning, tied on a brand new pair of hiking boots that needed a good breaking-in trail, and headed off to the reserve.
I decided to hike the loop trail, knowing that I was just getting these new boots out for their first hike, and there would be some rocky terrain, a creek to cross, some muddy spots, and light to moderate grades. I figured about two and a half miles of that sort of trail would be a good first trip, and not so long that I'd have trouble making it back to the car if I had issues with the boots. There are a number of interconnecting trails that cross the land and feature various types of terrain. The loop trail gets a little bit of all of it.
It was an astoundingly beautiful day to be in the outdoors. Other than some really muddy sections about half way along the trail, the rest of the hike was pretty calm (I've learned that this is what many maps refer to as "moderate" difficulty). Rocky sections were a little slippery with snow and wet leaves, but the new boots and STICK (my found walking stick from a couple of months ago) made easy work of the trail. I spotted an enormous whitetail doe on the upper ridge when I was climbing, but she heard me first and took off before I could get a photo. There were lots of woodpeckers active in the trees, and a number of smaller birds that I didn't see long enough to identify. Geese could be heard flying overhead. The wildlife is on the move, but I suspect they're going to be cold for a little while longer around here!