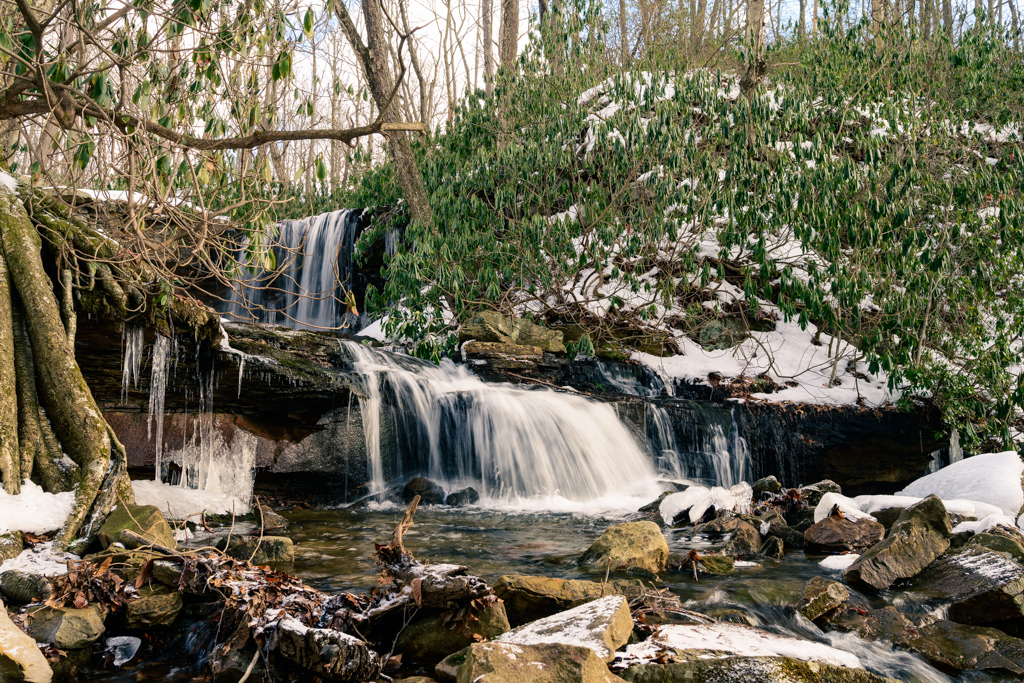 A Winter Hike Around Cole Run Falls
Today was cold and sunny. It seemed like a good day to go for a hike around a waterfall I had never visited: Cole Run Falls in Forbes State Forest, Somerset County.
I knew there was still snow on the ground up in the mountains, and figured that the trail around the falls and down Cole Run was likely to be a combination of snowy, icy, and muddy, over the existing terrain which was probably rocky. Fortunately, after almost breaking myself a couple of times walking around the neighborhood in the packed, refrozen snow, I decided to get myself some new crampons specifically for walking on hard surfaces. I picked the YakTrax ICEtrekkers for that duty. At the same time, I also wanted to be able to hike trails in winter conditions, so I also picked up a set of Kahtoola MICROspikes. The MICROspikes are much more aggressive and would not live long if used on hard surfaces. The ICEtrekkers are much more subdued and should last a good while when used on hard surfaces. I got the XL size in both to fit my size 12 and 13 boots of various types. It turns out I probably could have gone with the L for the Kahtoola. They fit my LL Bean boots fine, but will probably be a little too big if I ever wanted to put them on my Merrell hiking boots. The XL in the YakTrax fit everything well.
Knowing that I'd be out around water and on some roads that don't get winter maintenance, I packed some dry clothes, dry boots, an extra coat, hat, and gloves. This might seem extreme, but if I went in the drink while exploring the waterfalls, I needed to be able to get into dry stuff. And if I managed to get the Subie stuck, I might have to hang tight for a little while. Along with the camera gear and tripod, I also packed some trail snacks, water, and first aid kit. Of course, since I was also going to be venturing around areas that are open for hunting, the blaze orange winter hat was the headware of choice, and I strapped one of my emergency vests to my camera bag for additional visibility.
The waterfall itself was surprisingly easy to access, though the crampons were necessary for me to make my way down below the falls and along the banks to get some photos.
After spending some time in and around this water (thank you for quality boots that keep the water out, LL Bean!), I started to make my way down (down, down down…) the Cole Run Trail, which follows Cole Run down a series of cascades. Unfortunately, I had left my nice hiking stick at home (affectionately named "STICK" by my Brother-in-Law, who rescued it and returned it to our porch after I realized I had left it leaning against the car when I drove off from home), so when the trail started to get really rocky and harder to navigate, I decided to turn back and go up (up, up, up, up, up, up…) the run back to the car. I grabbed a few photos of the cascades I saw along the way, but I wasn't as happy with them as I was with the shots of the falls.
After a snack and some water back at the car, I continued down the road to find the Barronvale Covered Bridge, which is one of the longest covered bridges in the state, and the longest one in Somerset County. It is no longer open to traffic, but is in good condition and open to foot traffic, and there's a small parking area on one side. The sun and sky cooperated nicely to make some pretty images here, too.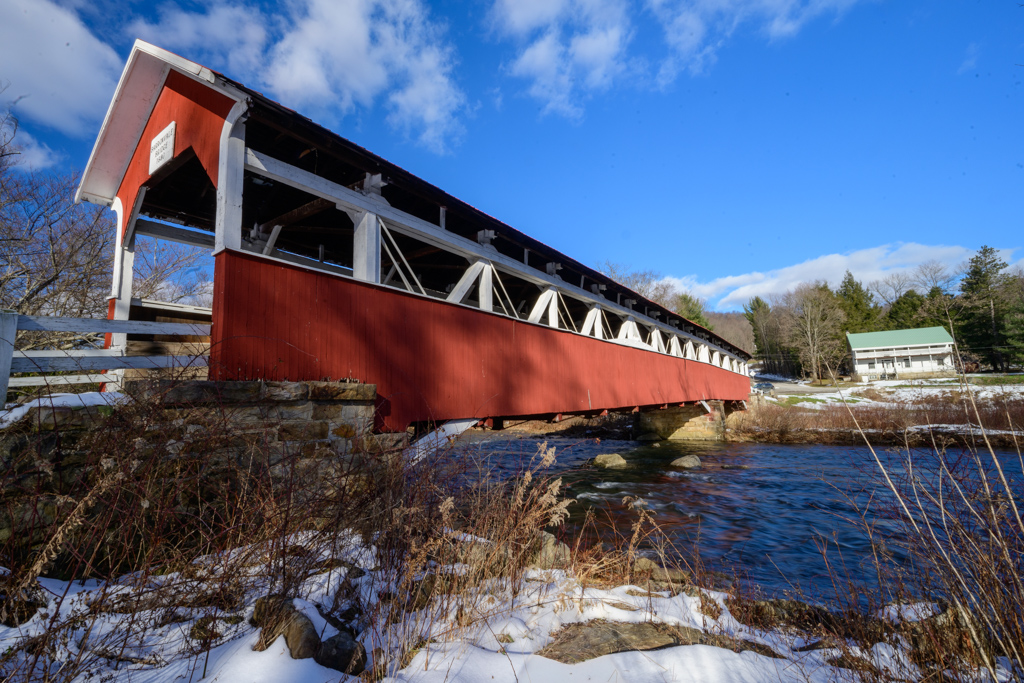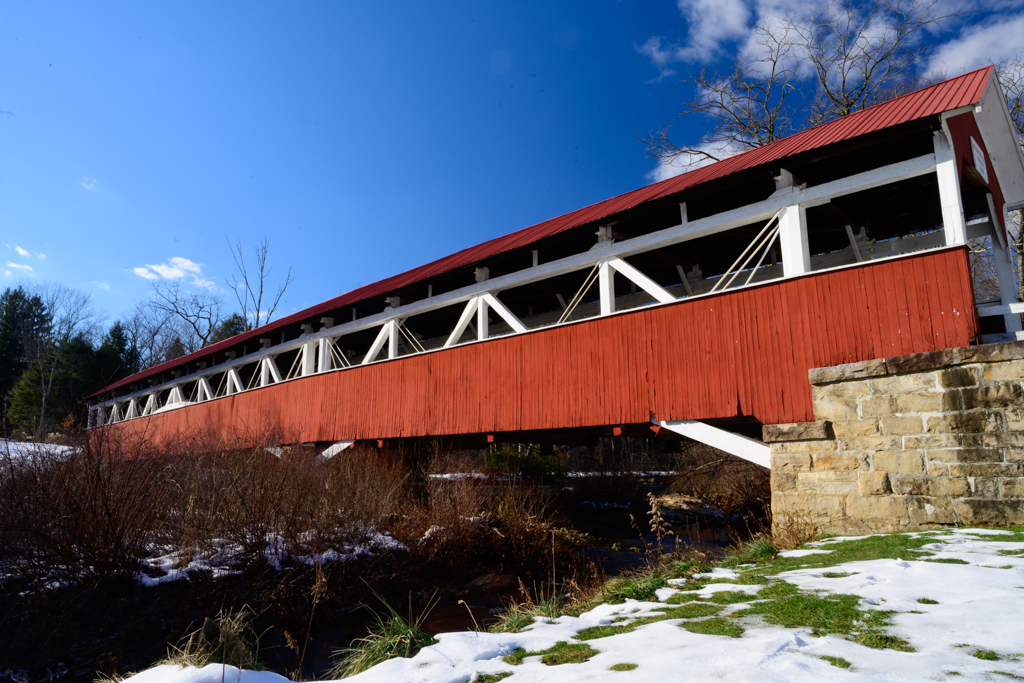 With that, I decided it was about time to head myself home. Thanks for coming along for the trip.
Photo details: Everything today was shot with the Nikon Z7, which is new to me, and I'm still learning my way around it. All of the images posted here were shot with the Nikkor 14-30mm f/4 S lens with a circular polarizer fitted. Everything was processed to taste in lightroom, though honestly there wasn't a lot of processing necessary. The sensor in the Z7 renders some great images.