Christmas Past in My Parnassus
Ten years ago this month, I drove into Parnassus (and New Kensington) for the very first time. On that bright, warm December Saturday I followed Jonathan's directions from the Pennsylvania Turnpike. I drove through the Springdale speed trap of which he had warned me, across the C.L. Schmitt Bridge over the Allegheny River, and up to the old Parnassus house that Jonathan had purchased the year before. The house that became our home.
I decided to write this post partly after I blogged that Parnassus is not gone. I conceded in that post that my Parnassus and Jeffrey Simpson's Parnassus in American Elegy: A Family Memoir  are not the same;  they just occupy the same physical space. Still, I am a bit sad that Simpson concluded in the final chapter of "American Elegy" that "Parnassus was gone, finally. Its name having been taken away sixty years before when it was consolidated with New Kensington, it had now decayed into a slum, the big old wooden houses partly veneered in garish sidings of purple, sky blue, and dirty pink, when I made the pilgrimage up the river one afternoon and drove through town under a lurid, thundery sky."
That's a bit pessimistic, don't you think? Simpson's memoir ends, and was published in, the 1990's. As I mentioned in my prior post, I have witnessed a lot of living in this neighborhood between the years 2003-2013. I fully realize that I come across as a Pollyanna to some readers, especially where Parnassus is concerned. I have family in other parts of Westmoreland County, so I heard, ahem, stories about New Kensington long before I first came to town. But you know what? If you grew up here and you moved away, don't look back and dump on this place if you're not doing anything to help solve the problem. (I stole this thought from my mother-in-law, who grew up watching parades that went down the street on which I now live.)
In honor of my first decade of knowing this neighborhood, here's a short photo history of holiday-related memories in my Parnassus:
In December 2004, Jonathan asked me to marry him. We worked on renovating our Parnassus house together (by then, I thought of it as our house), both prior to and after our 2006 wedding.
In December 2007 we finished our multi-year DYI renovations on our dining room and parlor. The yellow paint on the walls was barely dry when we held a Christmas / New Year's party for Jonathan's generation of the Woytek clan.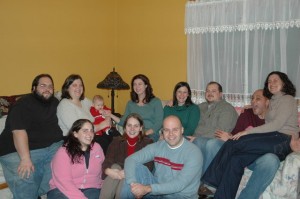 After we finished self-renovating the first floor of our home, we began to host the family's Wigilia celebration each Christmas Eve.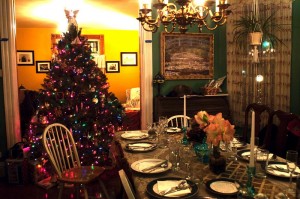 My sister-in-law Marissa's future husband Jack purchased a house down the street from us a few years ago.  Jack and Marissa now face their own old Parnassus home renovations. Jack popped the question to Marissa during the breaking of the Op?atki Christmas wafer during Wigilia in our dining room last year.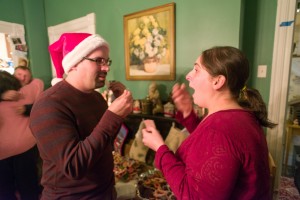 Last month they came back to our house at the end of the wedding reception for an "after" photo.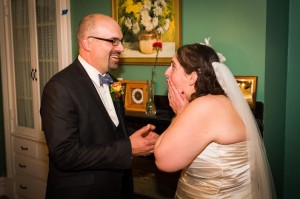 Merry Christmas!