Pre-Anniversary Breakfast at Knead Community Cafe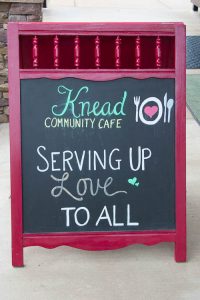 Tomorrow (Sunday) is our wedding anniversary.  We got married at Mount Saint Peter in New Kensington two weekends after Easter.
So, tonight is the anniversary of our wedding rehearsal and rehearsal dinner. Memories of our wedding rehearsal dinner itself make me happy because my mother-in-law and her family and friends put such love and care into this party.
Jonathan and I usually celebrate during our entire anniversary weekend.
To start this morning, we breakfasted for the first time at the non-profit Knead Community Cafe in New Kensington.
This restaurant runs on a "pay what you can" model.  If you want specific information on how Knead works and the menu options, you should check out Knead's Facebook page and also their website.
The booth inside of Knead's front door also explains "pay what you can:"
–
I tease Jonathan when he photographs his food, but I'm just as guilty of this as he is. Here is my breakfast before I ate it. Knead offered three breakfast options this morning. We checked Knead's Facebook page before we left our house so that we could see the options: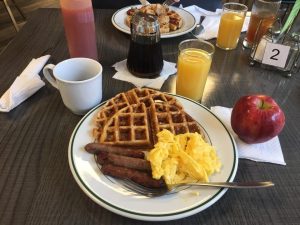 Years ago, Jonathan and I started our marriage in New Kensington. This morning, we started our anniversary weekend with a hearty breakfast at Knead.