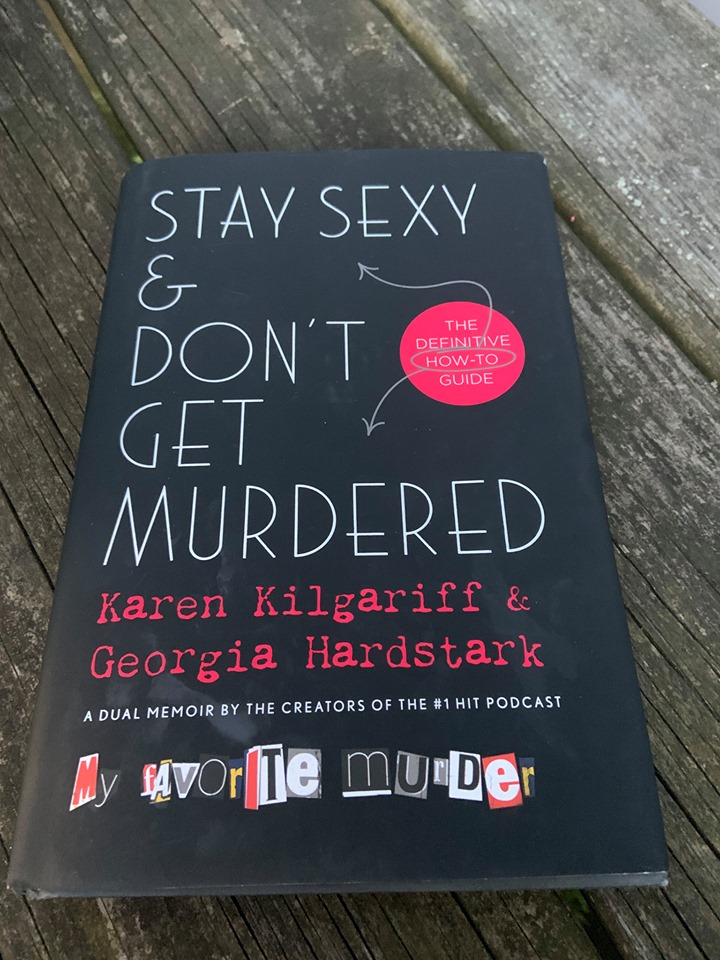 This is Jenny. I'm blogging on our "Married Life" blog today because this doesn't really fit with my "History and Travel" blog.
So, this weekend I read a short memoir that "a few" of my family and friends might want to try. This book is Stay Sexy & Don't Get Murdered by Karen Kilgariff & Georgia Hardstark.
These two authors host My Favorite Murder, a "Comedy, True Crime" podcast.
Now, this podcast is NOT for everybody. The hosts discuss True Crime (so, they discuss murder and other violence). They use profane language. Many people aren't comfortable hearing women use profanity. Finally, they frequently recap stories that they heard on other podcasts or saw on television. (For instance, they have in the past cited the fantastic Criminal podcast as a source.) However, for almost all of the True Crime discussed, if I wanted to just learn the straight story, I could just go to Wikipedia and read about the whole thing myself. That's not really the point of My Favorite Murder (MFM). I actually listen to MFM to hear the hosts' perform comedy as they retell the stories.
Devout MFM fans refer to themselves on social media as "murderinos."
The MFM cast frequently performs live shows nationally and internationally. MFM visited Pittsburgh for two shows at the Benedum in March. However, members of the MFM fan club got first priority to order tickets, and both shows sold out while ticket sales were only open to fan club members. I don't belong to the MFM fan club. So, both shows sold out before I could get tickets. I'm totally okay with this, because Mumford & Sons played in Pittsburgh ON THE SAME NIGHT as one of the MFM Pittsburgh shows. Jonathan and I got to see Mumford & Sons perform. I know that Jonathan was much happier about going to the Mumford show with me than he would have been at having to sit through a "Comedy, True Crime" show with me.
I found a Reddit board that discussed the MFM Pittsburgh show. One of the two Pittsburgh shows had to stop in the middle because someone in the balcony had a medical emergency. (The Reddit posters reassured me that this person was able to walk out of the theater on his or her own.)
Then, (as I learned on Reddit) one of the two stories discussed in Pittsburgh was a story about which I already blogged on The Parnassus Pen: the murder at Rehmeyer's Hollow / Hex Hollow. Not only did I blog about this, but I also learned all about this on Aaron Mahnke's Lore Podcast. (If you want to listen to Aaron Mahnke's tale, it is Episode 62: Desperate Measures, dated June 11, 2017.) Finally, I was under the impression that the hosts attempt to feature "local stories" during their live shows. Rehmeyer's Hollow is on the other side of the state from Pittsburgh.
This is just a long way to say that although I enjoy the (free) MFM podcast, I'm glad that I spent my money on the Mumford & Sons tickets instead of on the two sold-out MFM shows that I didn't have an option of attending.
Now, the hosts of MFM often upload recordings of their live shows in lieu of producing new studio shows. They haven't uploaded recordings of either Pittsburgh show yet. However, last week they noted that they were going to take some time off and that they would upload more recorded live shows in the future. So I might still hear a recording of one of the Pittsburgh shows. Finally, one of my Facebook friends "hinted" that she might possibly have been invited to come on stage to tell her own local, Pittsburgh, True Crime story. So, we shall see (hear).
If you like history, but don't mind profanity from females, here are some MFM episodes that you might enjoy:
Episode 159 includes the Baltimore Plot to assassinate Abraham Lincoln BEFORE his inauguration in 1861.
Episode 150 includes the hanging of convicted murderer Alice Riley. Riley was an indentured servant and the first woman hanged in colonial Georgia. (I previously learned about this on the Lore podcast.)
Episode 144 includes the Great Molasses Flood of in Boston in 1919.
Episode 130 explains the deaths of the Romanovs.
Episode 150 includes Typhoid Mary. (I previously learned about Typhoid Mary on several other podcasts, including Radiolab.)
I blog about this all now because the hosts just released their new book. The title, "Stay Sexy & Don't Get Murdered," (SSDGM) refers to the podcast's tagline.
To be honest, I didn't initially plan to purchase SSDGM without first reading the Amazon reviews. I was suspicious that the book was just a money grab. However, Amazon offered me a chance to purchase the book at $10 off of the cover price. I took the bait. I read the book in one weekend. Now I can pass it on to family members.
Let me be clear that SSDGM said VERY LITTLE about True Crime.
Let me be even clearer that SSDGM is NOT "sunshine all of the time" book.
The book mostly consisted of self-help and vignettes from the two author's own lives.
For instance, in Chapter 1, Karen wrote about her experience watching her mother die (slowly) twelve years after the mother's diagnosis with early-onset Alzheimer's Disease. This happened after Karen and her family watched her grandmother die of the same thing. So, I want to warn you that if a discussion of terminal illness or parental death upsets you, then you shouldn't read SSDGM.
Now, less than a year ago, I watched my own mother die of cancer. I actually took comfort over reading about Karen's family's experiences.
Georgia wrote about her pain over her parents' acrimonious divorce and about the time that an older man convinced her to pose nude for him.
Karen and Georgia both wrote about their painful teenage years, substance abuse struggles, and eating disorders. Again, if reading about any of these topics upsets you, then DON'T read SSDGM.
That being said, I laughed A LOT as I read SSDGM. I am weird. However, Karen and Georgia wrote SSDGM for weird folks such as myself. They even said so in their book!
Karen and Georgia both spread motivational advice about following one's dreams and accepting oneself as imperfect.
For instance, as a result of Georgia's advice, I ordered a copy of "Zen in the Art of Writing: Essays on Creativity" by Ray Bradbury.
You see, when Georgia was in eighth grade and at one of the lowest points in her life (she had just left rehab for the treatment of her substance abuse), her eight-grade English teacher handed her a copy of Ray Bradbury's The Martian Chronicles. Georgia hid herself away and read the book. Georgia wrote that this book was "the catalyst for (her) salvation." Then she read the rest of Ray Bradbury's books.
Three years later, when Georgia was sixteen, she attended a science fiction convention specifically to hear Bradbury speak and to try to meet him. Another English teacher helped her to compose a grateful letter that she handed to Bradbury.
Bradbury wrote back to her and sent her a copy of his writing book.
Georgia later gave herself permission to blog because, deep down, she wanted to be a writer. She wrote that "giving something your best shot is good enough, even if you fail. Aside from my grandma Mollie's favorite saying – "Bigger dummies than you" – I've also always had the question, "Why not me, too?" in the back of my mind."
Georgia also wrote, "I don't claim to be better or more talented than anyone, but I do know I deserve just as much of a chance at a happy life as everyone else, and I think I deserve that chance because I'm not a shitty person."
Several of my family members teach. I highlighted this section of the book for them to read.
I blogged today because I know that some of my acquaintances also listen to the MFM podcast. I wanted to share my thoughts about my purchase and digestion of SSDGM.
What books and podcasts do you enjoy?