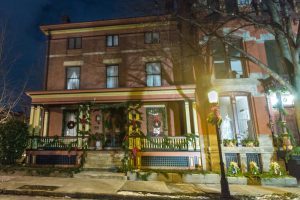 Blogging is fun because I can share the fantastic people and places near my home.
I grew up in a rural, Laurel Highlands town. Even a trip to the "local" bookstore to buy the newest Baby-Sitters Club book was a special treat and an all-Saturday event. The bookstore was more than an hour's drive from our house. We didn't shop online  – heck, we didn't even have the internet in my town. (Thanks for driving me to Johnstown every time a new Baby-Sitters Club book was released, Mom!)
So, I very much appreciate New Kensington's LACK OF TRAVEL TIME to so many things that I can see and do.
Sometimes I find activities and groups that sound like fun to me, but I don't find the time needed to participate. So, I wait and circle back at a different point in my life.
Case in point: A few years ago, I pulled a list of the faculty members of a Pittsburgh-area MFA program. I Googled these names to see what other classes or workshops they each taught in the Pittsburgh area. I learned that one of these instructors planned to teach at an upcoming weekend retreat for The Mary Roberts Rinehart Chapter of Sisters in Crime. Sisters in Crime, Inc., is an international group for women crime writers. The Mary Roberts Rinehart Chapter is the Pittsburgh area's local chapter.  The original co-owner of Mystery Lovers Bookshop in Oakmont initiated the local chapter in 1997, and the group still meets in Oakmont.
I had fun at that retreat. Then, I got busy and I didn't take part in any other activities for this group. Until today.  Today I attended the group's new and prospective member meet and greet at Mystery Lovers Bookshop.
I mention all this because I want my five or so readers to know that this group exists. Because I hear people complain that there's "nothing to do" in our area.
****************************************************************************************************************
In case you didn't already know this: Mary Roberts Rinehart was an extremely successful mystery novelist from Pittsburgh.  Rinehart's Pittsburgh residence still exists as a private residence on the North Side.
Now, here's the thing: My mother-in-law Fran loved to read mystery novels. A kinds of mystery novels. (My father-in-law gave me several bags full of Fran's well-loved copies of mystery books.)
Fran also loved books from Western Pennsylvania writers, and books that took place in Western PA.
Because of Fran, our whole family knew that Mary Roberts Rinehart was a native Pittsburgher. Fran took Rinehart's The Circular Staircase on our vacation to northern Michigan. Fran sat beside Lake Huron and downloaded a Rinehart memoir on her iPad. Fran read aloud to us all the sections that she found the funniest. (Can you imagine? Bringing servants with you? To go camping? I still hear her laugh.)
Each Christmas, we toured Allegheny West, a neighborhood on Pittsburgh's North Side, behind Heinz Field. Fran loved that during each tour, we walked past Mary Roberts Rinehart's house.
One year, the Rinehart house was even a featured house on the Allegheny West tour. We got to go inside the Rinehart house!
I posted above the photo of the Rinehart house that my father-in-law, Dennis, took during this tour. I think that Fran asked Dennis to take a photo of this house – Mary Roberts Rinehart's house.
Anyway, here's your Saturday night snapshot of my life in Western Pennsylvania.
SaveSave
{ 0 comments }
Tweet