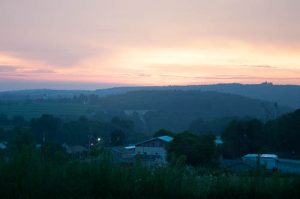 My youngest sister, O.,  turned 18 on the first day of spring.
I got to celebrate with O. and our sister E. at Phipps Conservatory.
Last weekend, I went prom dress shopping with O. and our mom. (I have my new theories about prom dress shopping now.) And this weekend, I went home to see O. perform in her very last high school musical. (O. is a senior at the same high school in Somerset County from which us four older sisters graduated.) I also saw my parents, all four of my sisters, all four of their kids, as well as my two aunts, my uncle, and two of my cousins.
I am O.'s godmother. I'm very blessed to be at her special events these past weeks.
(On Friday night, I blogged about S-town and then fell asleep.  S-town depressed me, in part because I saw parts of myself in John B. McLemore. I guess that this was the point?)
The next day, I drove to my own small hometown. On Route 66 through Delmont and past Greensburg, and then Route 31 into the mountains. Past miles of sodden fields and bare trees. The apple blooms were coming out in Mount Pleasant, but my hometown wasn't as green. My hometown is a few weeks behind Mount Pleasant in the spring. The cedar trees  that separated my parents' driveway from the neighbor's had all been cut down by the electric company after a storm. So, I don't have any picturesque outdoor photos to post of this weekend.
Once in July, Jonathan and I spent the day on the bike trail that runs through Somerset County .  On the way home, we stopped to take a photo of our Subaru with bikes mounted, in front of the pink sky and the mountains. (We wanted to tweet this to @Subaru.) We were a mile from my parents' house, on the edge of my hometown.  I posted above one of the photos that we took, sans Subaru and bike, because I like this scene. It reminds me that spring, and then summer, really is on the way in my hometown.