Life with S/V Pinniped: Two Months In, Part I
We launched Pinniped on May 3. Next week will mark two months in the water, so I figured it would be a good time to talk about the experience a little bit.
Jenny and I knew we were going to have a bit of a learning curve this year, and we were quite prepared to accept that we might not get out as often as we wanted, or for as long as we wanted. In fact, we knew that our first few trips to the boat were going to be spent getting her in order for us, and getting used to staying on her so we could figure out what we needed and how we wanted to do things. We likened the experience to having a summer camp somewhere, except ours was floating and could move. Though we are both experienced campers, many things about life on a boat are a little different, and we knew we would need time to adapt and develop a routine.
During our first few trips to Pinniped, I had a short list of things that needed to be done. These included filling the forward water tank (she has a forward tank and an aft tank, together comprising about 100 gallons of potable water storage), stowing all of the spares and parts Paul and Marie had given us, stocking cleaning supplies and basic galley items, setting up our berths, making sure we knew how things were currently organized so we could think about how to make them better, testing a few things myself to make sure that I understood how they worked (like the stove), figuring out docklines and fenders for our home dock and for travel, and generally getting her ship-shape.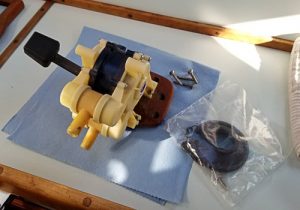 It was on our first trip up to her together that we encountered the first minor issue. I had just filled the forward water tank with our brand new hose, and I went to use the foot pump in the galley to start to get water through the system. A little water came out of the spigot, but not much, and the foot pump felt funny. That's when I looked down and realized it was dumping water on my foot instead of pumping it up the line to the sink. Oof. At this moment, I was glad that Paul had included a couple of foot pump rebuild kits.
Also on this first trip, I got the basics of our future navigation system set up and running on board. We have a Garmin GPSMap 78sc handheld for use in the cockpit, but I wanted something more full-featured for use during planning and documenting our travels. I built out a Raspberry Pi 3b+ with OpenCPN charting software, and set it up for use headless (no monitor), using a computer or iPad to connect to it over the wireless network on board (which is hosted by a cell hotspot right now). This is currently powered off of shore power, so an important step in the near future is going to be to get this onto DC power so that it can run all the time. I have a 12V-5V DC/DC converter all ready to go to power the Pi computer, but I also want to add a low-voltage cut-off in case the battery charger shuts down when we aren't on board to fix it. That would end up destroying the house batteries, which would be a bad move. The system also runs the ham radio APRS gateway to get our position into the APRS network, so the intention is that it will run all the time.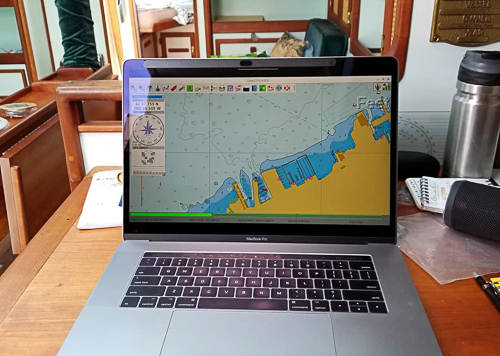 Our next trips were somewhat more successful, and included our first overnight stay, our first big storm on board at the dock (you might think this sounds silly, but it was a new experience for us, so it was significant to mark it), meeting our new dock neighbors, and, finally, our first trip out of our slip and into the bay!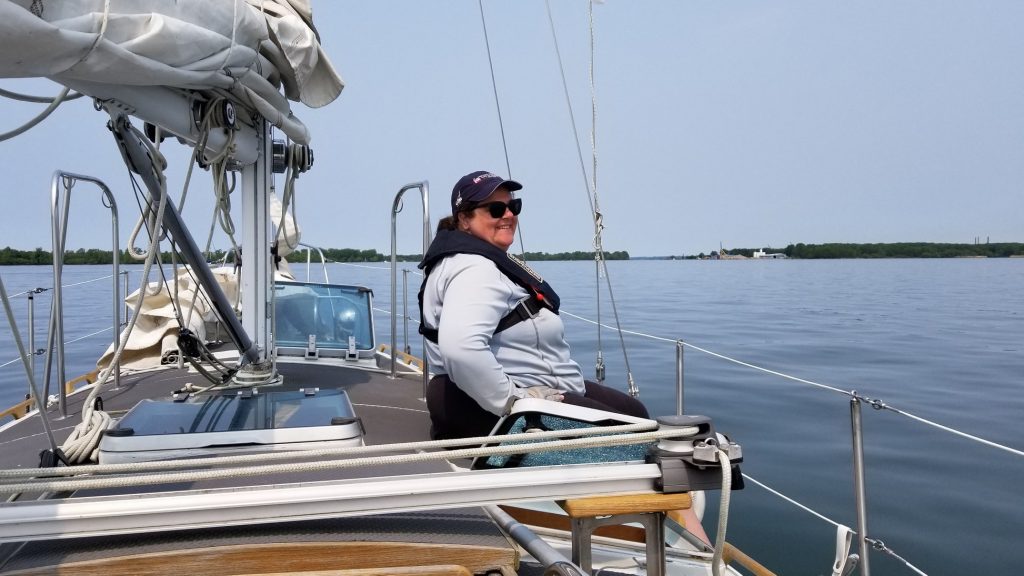 We had hoped to get the sails up on our first trip out, but as one might be able to judge looking at the water in the above photo, there wasn't enough wind to move a speck of dust, let alone an 18,000-pound sailboat.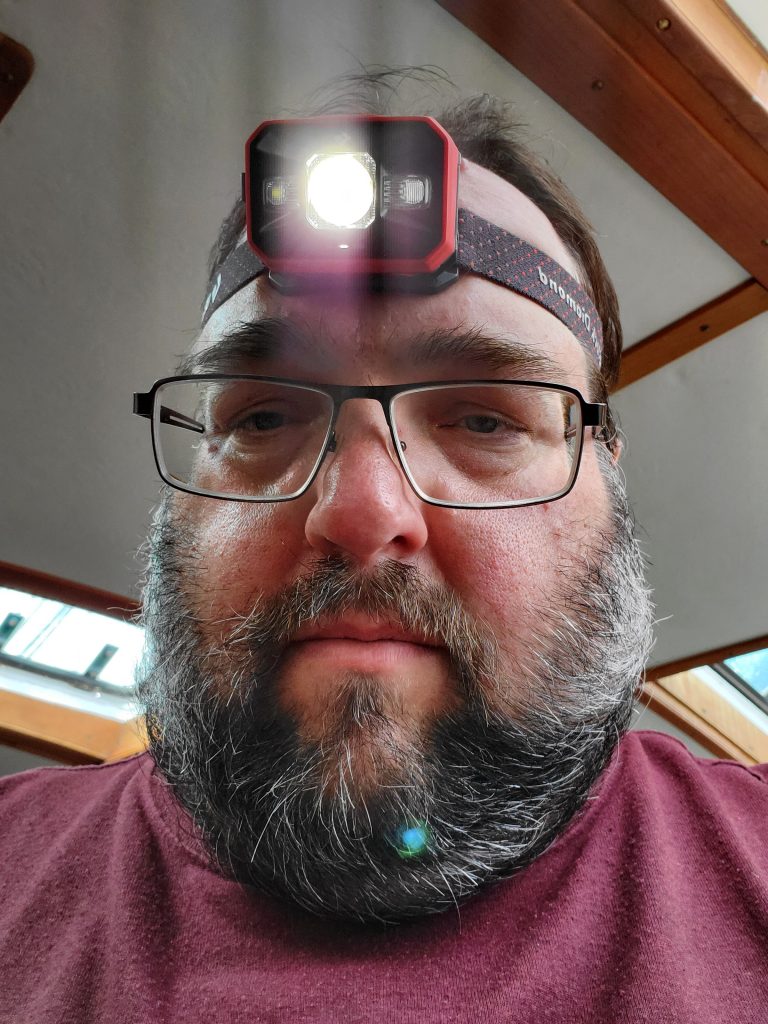 It was after we returned to our slip that I discovered the next problem: The hour meter for the engine was non-functional. It is impossible to tell how long this has been a problem, but we do know that the engine has relatively few hours on it, so even if it was 100 hours off, it probably wouldn't matter. The meter showed 347.75 hours when we left, and 347.75 hours when we returned about an hour and a half later. So, on our next trip to Pinniped, I donned the headlamp, pulled out the VOM, and started tracing the hour meter wiring from the meter back to the engine.
After tracing everything out, voltage was good, but polarity was reversed at the meter from what the wire colors would indicate. There was a convenient terminal block in the panel behind the meter, so I swapped black-for-red there. The meter should run regardless of polarity, though, and it wasn't, so I think it is toast. A new meter was ordered when we arrived home to be installed on a subsequent trip north.
One thing that kept us from getting out as much as we had hoped was our slip situation. As it turned out, our neighbor was in a 40-foot sailboat, a little over 12 feet wide. We were nearly 12 feet wide. Both of us were next to each other in a 26-foot slip. When one accounts for fenders to keep us off of our respective finger piers, there was maybe 18 inches of space between us. I'm a super amateur when it comes to docking, and sailboats don't really maneuver all that well in reverse anyway, so getting out was rather challenging. It was pretty challenging for our neighbor, too, who is an experienced sailor, but the closeness of our two boats made his life harder than it needed to be too.
Both of us mentioned the issue to the marina manager. We volunteered to be flexible and move, because our neighbor had been in that spot for a while. We were the "new guys," after all! The marina manager got back to us last week, and gave us a choice of available spots on C dock, one over from where we were on D dock. Though we are going to miss the dock neighbors we were just starting to get to know, I was pretty excited to get into a slip where we could come and go more easily, and Jenny wouldn't have to be so nervous (and, ideally, would be able to just enjoy the ride instead of having to run around doing things to keep us from hitting other boats).
Next up, Pinniped gets a new home, and excitement on the water! Stay tuned….